Sunday Monitor
In quest of my roots: Remembering the contributions of my ancestors
A banker, a civil servant & an engineer left their mark in Kolkata, Shillong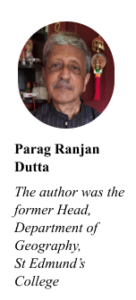 Kalikachha is my root, my ancestral village in Brahmanbaria, Tiperra district, in erstwhile East Bengal. When on November 25, 1878, the second son of Mahesh Chandra Dutta and Prafulla Nalini Devi was born who would have thought that this boy would become one of the leading bankers of that time? He along with the Prince Dwarakanath Tagore, who established the Union Bank of India were the only Bengali bankers of that time. The visionary was none other than Narendra Chandra Dutta, who was incidentally my granduncle.
Narendra lost his father when he was barely nine months old. This was unfortunate for a nine-month-old. The family was in disarray and his mother had to struggle to bring up the kid. This mishap so early in his life did not deter Narendra Chandra Dutta from becoming a successful person. My granduncle came to Kolkata and studied at Surendranath College. He studied law and got his LLB degree from Ripon College, Kolkata. Back to Comilla, he started practising in the civil court. Soon he earned a reputation as a prominent lawyer.
It was Akhil Chandra Dutta, a community leader who suggested Narendra Chandra to start Comilla Banking Corporation, the parent body of United Bank of India. Under the Indian Companies Act Comilla Banking Corporation was incorporated in 1914. The Comilla Banking Corporation started its journey with the support of one Mahesh Chandra Bhattacharjee. He was a keen observer who studied the economic conditions of poor Bengal and invested in tea estates. He even helped the investors by providing loans.
The bank started with a declared capital of 4000 thousand rupees.
But that wasn't enough for the smooth functioning of the bank. He started building funds and even sold his house for 1500 rupees. His elder son Bata Krisna Dutta after completing his education returned to Comilla to join his father's venture, The Comilla Banking Corporation as a trainee. His father found in him the quality of an enterprising young man who could start his own business. He encouraged his son to start a bank of his own. Bata Krishna agreed and the rest was part of history. He started New Standard Bank of India, which later merged with Comilla Banking Corporation in 1946.
Around that time three other banks, Comilla Union Bank, Bengal Central Bank and Hooghly Bank were established. Naren Dutta was dreaming something bigger. The three banks merged with Comilla Banking Corporation, Naren Dutta being the prime motivator. As a result of this merger one of the oldest banks in India, United Bank of India was born with its headquarters in Calcutta. In due course, Bata Krishna Dutta went on to become the Chairman and managing director of the UBI. The celebrated film director Anik Dutta is the grandson of Narendra Chandra Dutta.
A road has been named after Narendra Chandra in BBD Bagh, Kolkata.
After his retirement, Bata Krishna served in high-profile jobs in the highest capacity in various organisations. He remained the Chairman of the Tata Tea Company, Commissioner of Calcutta Port Trust and Chairman of the Durgapur Chemical Ltd. owned by the Government of West Bengal.
My own grandfather Surendra Chandra Dutta studied at Dacca University and joined as Assistant Secretary, finance department at Kolkata, the highest post held by any Indian at that time, the higher posts were held by the British, many of them being ICS officers. After a while, he was transferred to Assam in the same capacity and joined office at Shillong in 1895.
After his retirement, he went to Tripura and joined as state auditor, during Maharaja Bir Bikram Manikyo Bahadur. During the Regency of Maharani Kanchanprabha Devi, he became the Dewan (Chief Minister) of the state.
Later, my grandfather became the General Manager of the Tripura State Bank. After independence when Tripura State merged with Indian Union he became the advisor to the Chief Commissioner, an ICS officer. He was a great philanthropist. During the Bengal famine of 1943 when people were dying of starvation, he sensed a catastrophe looming large on the horizon. He built up a number of granaries from where rice was distributed. (Sourced: Sudip Dutta, My elder brother).
My grandfather's youngest brother, Harendra Chandra Dutta, a civil engineer, came to Shillong around the 1940s. When the suspension bridge over the Umngot River at Dawki was built by the British, he was one of the executive engineers. Harendra Dutta was not only one of the main men behind the construction of the Dawki Bridge but many other bridges and roads of the Khasi and Jaintia Hills were constructed under his supervision.
My cousins, Tathagata Roy, who served as Governors of Tripura and Meghalaya, and noted parliamentarian Saugata Roy, were grandsons of Harendra Chandra Dutta. My great uncle Satyendra Nath Dutta was a brilliant student and came out first class first. He was selected for ICS training and was supposed to leave for London. But unfortunately, he could not fulfil his aspirations. It was a religious taboo among many families in those days not to allow anyone to travel abroad. He then joined the Bengal Civil Service and served as Deputy Magistrate in several places in Bengal. After his retirement, he became the manager of Cossimbazar Raj Estate.
Today when I look back in time, I feel proud of my ancestors whose contributions cannot be forgotten easily.