Sports
Jhulan reveals 'one regret' as she confirms international retirement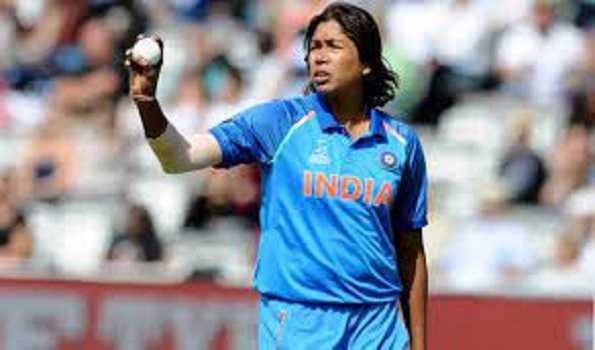 Mumbai, Sep 23 (UNI): India legend Jhulan Goswami on Friday officially confirmed her international retirement from the game after a 20-year-old career.
In the virtual press conference ahead of the final ODI against England, India star Goswami confirmed that the upcoming game at Lord's on Saturday will be her international match.
The storied career of Goswami that began against England in 2002 will end against the same team. In the 20 years, the veteran pacer has made a name for herself as one of the finest players to play the game as well as revolutionised fast bowling in women's cricket in India.
The 39-year-old has 12 Tests, 203 ODIs and 68 T20Is for India, and has picked up 353 wickets across formats. Of those, 253 wickets have come in ODIs where she is the highest wicket-taker in women's cricket. In fact, no other player bar Goswami has managed to breach the 200-wicket landmark in ODI cricket so far.
Few bowlers in women's cricket have achieved what Jhulan Goswami has been able to, both in terms of number and impact. But while bidding farewell to the game, Goswami was candid and said that she does retire with one regret.
"Regrets in the sense, I played in two World Cup finals and if we had won one of them that would've been great for us because it is the ultimate goal for us," said Jhulan Goswami. "That's one such regret I have, otherwise, everything else is great."
India made it to the final of the 2005 and 2017 Women's Cricket World Cup but fell short against Australia and England respectively. In the most recent edition, India failed to make it out of the group stage after losing a do-or-die clash to South Africa.
Goswami missed the game through injury and in a crunch game, India missed the services of their talisman. In the press conference, Goswami said that recent recurring injuries were the main reason to call it a day.
"For the last two years I was thinking every series (that I played) is my last series because of injuries and ups and downs," she said. After the World Cup (2022) also, I thought maybe the Sri Lanka tour will be my last series, but again I got injured in the last match of the World Cup and couldn't travel to Sri Lanka. And this is the last ODI series before the T20 World Cup (next year), so why not this series?" she added.
While she has retired from international cricket, Jhulan Goswami has left the door open for the rumoured Women's IPL – much like her friend and former teammate Mithali Raj – that is reportedly set to take place next year.