Infotainment
Kangana berates India's Independence; Congress calls it treason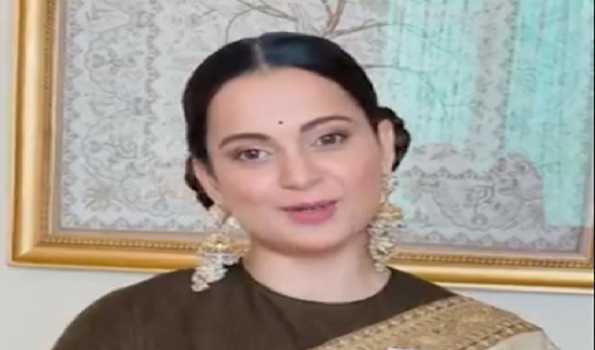 New Delhi/Mumbai, Nov 11 (UNI): The Congress on Thursday came down heavily on Bollywood actor Kangana Ranaut for stating that India did not get Independence in 1947, but 'bheekh' or alms, stating that the remarks made by the recipient of Padma Shri amounted to "treason", and that the government should take back the Padma award and other national awards that she has received so far.
The Queen actor landed in controversy on Wednesday, when, while participating in the Times Now Summit 2021, she remarked that India did not get Independence in 1947, rather freedom for the nation came in 2014, in an apparent reference to the Narendra Modi government coming in power.
"That was not independence but bheekh (alms), and the real independence came in 2014," she had said.
Her comments drew criticism from many quarters, including national parties like BJP, AAP and Congress.
Congress spokesperson Gourav Vallabh said, "First of all Kangana Ranaut has made fun of freedom fighters and their struggle. Does Kangana think the bullet Mahatma Gandhi took on his chest was for 'bheekh'? Bhagat Singh went to the gallows, was it for 'bheekh'? Subhash Chandra Bose sacrificed his life, was it 'bheekh'? Sardar Patel united India, Pandit Nehru was in jail for 10 years, was it all for 'bheekh'? This is an insult of our ancestors, the people because of whom we are independent today, it is an insult to them. Kangna should apologise to every Indian.
"The government of India should take back the prestigious Padma award from such a lady who is insulting Mahatma Gandhi, Sardar Bhagat Singh, Subhash Chandra Bose, Sardar Vallabhbhai Patel. If the government is giving her Padma award, it means the government is backing such people," he added.
BJP leader Varun Gandhi slammed the actor on Twitter for her comments, and questioned if it was "madness or treason".
"Sometimes an insult to the sacrifice and penance of Mahatma Gandhi, sometimes the respect of his killer, and now the disdain for the sacrifices of millions of freedom fighters from Shaheed Mangal Pandey to Rani Laxmibai, Bhagat Singh, Chandrashekhar Azad, Netaji Subhash Chandra Bose and more. Should I call this thinking — madness or treason," Varun said.
Preethi Menon, National Executive Chairman of AAP, filed a complaint with Mumbai Police seeking an FIR against Ranaut for making "seditious remarks".