Sunday Monitor
Killing with her smile
Shillong-based model Barnana D Choudhury talks about her journey & how her charisma won hearts
My journey began at a time when the world we lived in was not under lockdown. In 2016, I stepped into the glam life with the Miss Jewel Queen beauty pageant in Manipur. I won the Miss Beautiful Smile subtitle. It was an invigorating moment in my life. It was then that I decided to pursue my goals in the fashion world and focus on participating in more pageants namely Miss Luitporia Northeast 2017 where I won the subtitle of Miss Beautiful Smile yet again.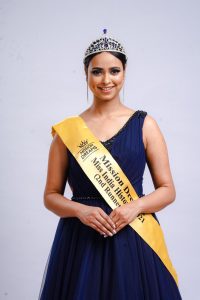 I was emboldened by the fact that my smile was taking me places. I participated in Miss Brahmaputra Northeast 2017 and won the title among 60 other contestants who came from all over the North East.
I took a break from pageantry and focused on print modelling by doing several shoots for designers, stores and makeup artistes. I thought the exposure and experience would give me an upper hand in pursuing my passion. This took me on a different path but after a four-year hiatus, my family, friends and my mentor insisted that I got back to pageantry. That was when I realised that I had grown as an individual and exhausted my reasons to not pursue what drives me. I have become more patient and compassionate. So, I did what I thought was the best thing for me. I registered for a virtual national beauty pageant, Mission Dreams Miss India Historic 2021.
The thrill was back and the foundations I had built for myself provided me a strong platform. The challenges seemed more real. I saw a platform that could be used, I saw myself doing something meaningful. I instantly knew that this platform should not go waste. I knew my drive was stronger than ever. I took home the subtitle of Miss Divine Beauty and was also awarded the runner-up position of Mission Dreams Miss India Historic 2021.
There were moments of doubt, despair and sadness all along the way but I had to keep smiling, I wanted to. The never-ending support of my family made me take on the challenges which I could never have done alone.
I have come a long way and never travelled alone. Currently, I am readying myself for another challenge, Mission Dreams Miss India 2021, to be held in Kolkata in October. My goal is to be part of Tollywood in Kolkata and to expand my horizons.
That will be another journey and I am sure that this time too, I will have my family, friends and well-wishers with me. But I cannot embark on this new journey before thanking all those who have helped me achieve so much so far.
I want to thank Lamoda Shillong for providing me some of the most exquisite outfits. I thank makeup artiste Ladei and hair stylist Iban for dolling me up for the last pageant and the official photo shoot. My gratitude goes to Hrith Roychoudhury and Brendon Khongphai for helping me with the introductory video.
I want to thank Czone Pro productions for helping me shoot the Beauty With A Purpose project and SOSS and Preeti Thapa for always supporting me.
Lastly, I would like to thank Mission Dreams for such a life-changing experience, it was truly enriching.
The world is in a tough spot right now, but I would like to leave things on a more positive note. We are human beings, we have travelled through the dark ages and survived multiple earth-shattering incidents. We are versatile, intelligent and can adapt well. Let's not give into the crisis this time. We can stay safe and keep ourselves protected and not just for our sake but for the sake of the ones we love. It can start with one small action — follow protocols.