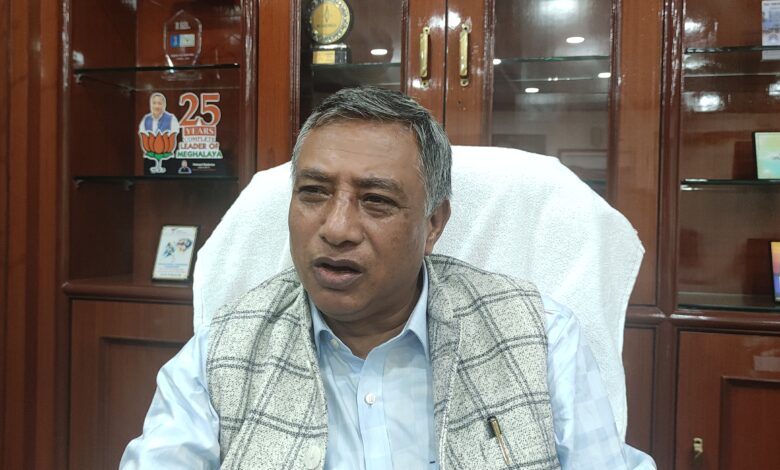 Shillong, Sept 6: BJP leader and cabinet minister AL Hek said on Wednesday that a section of Mahila BJP members met him and apprised him about the style and functioning of the state president Ernest Mawrie.
The move comes following the resignation of BJP member HM Shangpliang.
Hek said some Mahila members met him on the matter.
"As far as I am concerned, I have no problem but there are complaints by others", Hek said.
On the resignation of Shangpliang, Hek said,  "Shangpliang met me a day before his resignation, he mentioned about the style and functioning of the state president, but I told him there are other leaders , so let us work together".
Nepotism is with Shangpliang 
Mawrie, however, denied charges of nepotism and internal conflicts by stating that the former Mawsynram legislator was the one who is practising nepotism by making the party to appoint his brother as president of the mandal in Mawsynram constituency.
"He is blaming us, especially me, the state president by stating that there is nepotism in the party. But if you go through the dictionary, what I understand is I am favouring my relatives, my close friends but here in the BJP office, Mawrie is only the president and there is no nepotism in the BJP. Instead if we go to Mawsynram, we have appointed his brother as the mandal president based on his request", he said.
Acoording to Mawrie, Shangpliang had expressed his interest to contest the Lok Sabha election.
"He has expressed his willingness to contest the Lok Sabha election but I told him when the time comes, we will recommend your name. But he put one condition and requested me as a state president to please convene MDA meeting with coalition partners and find out a solution that they agree to have a common candidate and that they should give a chance to the BJP. However, I straight away told him that is not possible because I cannot make a decision and that decision will be taken by central leaders not me," Mawrie said.