North East
Mamata offers prayer at Kamakhya temple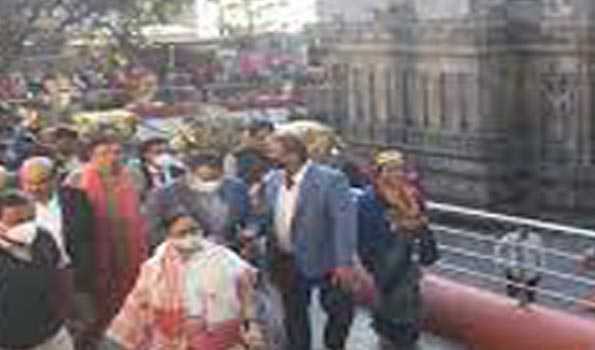 Guwahati/Kolkata, Dec 21 (UNI): West Bengal Chief Minister Mamata Banerjee on Tuesday offered prayers at the Kamakhya temple here during her brief visit to the city.
Trinamool supremo arrived here this afternoon and drove straight to the temple atop the Nilachal Hills where she was received by the temple's 'dolois' or priests.
She also had the 'prasad' offered to her by the temple authorities before leaving for the airport from where she took a flight back to Kolkata. Banerjee was received at the airport by Trinamool Rajya Sabha MP Sushmita Dev.
Banerjee on Tuesday expressed her deep anguish at the fire incident at IOC in Haldia. Taking to twitter, Banerjee said, "Deeply anguished by the fire in IOC, Haldia."
"Three precious lives were lost and my thoughts are with the bereaved families in this hour of grief," she added.
"Those injured are being brought to Kolkata through a green corridor," she said.