State
Manpower & not oxygen a worry at NEIGRIHMS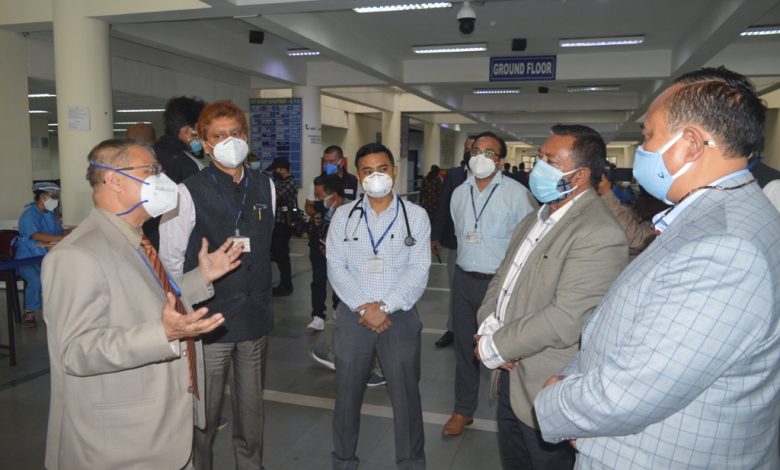 Shillong, May 12: Manpower, and not oxygen or ventilator, is a concern at NEIGRIHMS at a time when Covid-19 cases are surging in the state, said Director P Bhattacharya on Wednesday.
Speaking to reporters after the visit of Health Minister AL Hek to the hospital, Bhattacharya said the main challenge is that the hospital is running both Covid-19 and non-Covid sections.
"The services are continuing but the number of staff is very less… These are challenges for which we have been preparing last time. We trained other doctors and nurses from other sections of the hospital — pre-clinical, paraclinical and even laboratory — were trained in managing Covid ICU patients," he added.
The hospital is also utilising services of the administrative staff, students in their final year and interns to ensure that attendants of Covid-19 patients are not sent to other patients.
"The challenges in providing expanded ICU care lies not in the equipment. We have the equipment and we have more than 70-77 ventilators and will be getting more," Bhattacharya said, adding, "The challenges lie in human resources, trained human resources and this is true the world over."
The director also assured that there was no shortage of oxygen, saying, "At present, no (shortage). Our liquid oxygen tank capacity is adequate for now. We have an oxygen concentrator through which we are filling up tanks."
The hospital till date has 57 Covid-19 patients, of whom 17-18 are on life support. After cardiac surgery, a patient was infected and the surgery ICU is now a containment zone.
The health minister, who visited NEIGRIHMS on Wednesday, said the situation in the hospital "is manageable". He urged the hospital authorities to not deny treatment to non-Covid patients like those suffering from cancer and those in need of dialysis.
"We are happy with their preparedness. We have seen that they have kept the isolation, waiting and ICU wards separate. They also said there is no problem with oxygen, beds, ventilators and everything will be manageable," the minister added.
On concerns over manpower shortage, Hek said the hospital has to get an order from the Centre to increase the number of staff. He added that there is no difference between a VIP and an ordinary patient and all will be treated equally.
Echoing him, Bhattacharya later said, "This is a government hospital and we will extend our services to the best of our ability. There is no special ICU, we have 25 patients in the original ICU."
All age groups affected
DHS Director (MI) Aman Warr said the virus is affecting all age groups but paediatric cases have not been reported yet.
"Maybe it is the change of the virus, there is a mutant out here. Maybe it is there, I'm not saying it but the only thing is that the virulence of the virus is high and that is why many are getting positive. We are concentrating only on the number of new cases all this time and have forgotten the number of recoveries," he said.
The state on Wednesday recorded 406 positive cases, eight deaths and 314 recoveries. "So, there is hope. People are getting infected but at the same time, there is healing. We can fight if we follow protocols, such as self-lockdown," said War.
"With the lockdown in place and self-lockdown, next week there will be a dip if we follow. If we don't follow there will be a surge again. There are health workers who are turning positive including doctors," he added.