State
Meghalaya's Eri Ryndia grabs attention at G20 Craft bazaar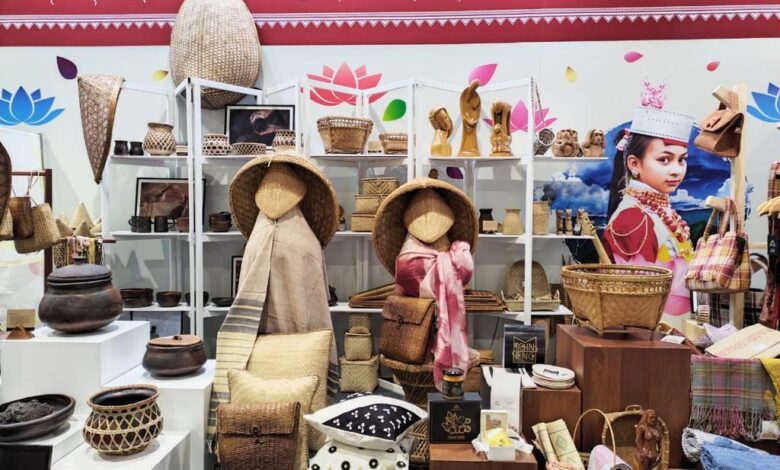 New Delhi, Sep 11 (UNI): Meghalaya's organically produced Eri Ryndia grabbed the attention of national and international guests at the recently held G20 International Craft Bazaar here.
Prime Minister Narendra Modi paid a visit to the Meghalaya stall and interacted with the team and expressed his interest in the ethically sourced Ryndia that syncs with the Sustainable Development Goals (SDG) of climate action, women empowerment and sustainable livelihoods.
Meghalaya Department of Textiles and Community and Rural Development (C&RD), through the Textiles Department brand "Ryndia " & "Tribal Weaves" of Textiles and C&RD respectively besides handicrafts of the Tourism Department's Meghalayan Age represented the state at the G20 International Craft Bazar.
(Also read: 'Woven Narratives': Weaving a dream with ryndia)
Commissioner and Secretary Textiles and C& RD, Frederick Roy Kharkongor led the Textiles and C&RD teams initially for Coordination purposes and Textiles Department officials represented the State at the G20 Exhibition.
"The Prime Minister engaged with the Meghalaya team and showed significant interest in the organically produced and ethically sourced Meghalaya Eri Ryndia," an official said.
"This unique product aligns seamlessly with the Sustainable Development Goals (SDGs) pertaining to climate action, women's empowerment, and sustainable livelihoods," he added.
The Crafts Bazaar showcased handicraft products from different parts of India with a special focus on One District One Product (ODOP), GI-tagged items and products crafted by women & tribal artisans.
Delegates and international media participating in the Summit had the opportunity to visit this Crafts Bazaar and purchase locally sourced products.
The exhibition was organized by the G20 Secretariat in coordination with the Ministry of Textiles and State/UT Governments. Around 30 States and UTs as well as central agencies like Khadi Village & Industries Commission, TRIFED, Saras Ajeevika participated in the Crafts Bazaar.
Also read: