Headlines
MHIS to provide full coverage for Covid patients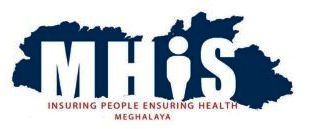 Shillong, Aug 7: The Megha Health Insurance Scheme (MHIS) will provide full coverage for Covid-19 treatment from August 15.
"The government has taken this very bold step to address in as far as the cost for Covid-19 treatment in different private hospitals is concerned by enhancing the MHIS facilities," Deputy Chief Minister in-charge Health Prestone Tynsong told reporters on Saturday.
Tynsong said earlier, the MHIS benefits covered only 60 percent of the treatment cost while the remaining 40 percent was paid by the patients from their own pockets.
Tynsong said the package is divided into five categories. Under the first category, the MHIS has fixed Rs 7,000 per day for general ward without oxygen requirement, Rs 11,500 per day for general ward with oxygen requirement (2nd category), Rs 14,000 for ICU/HDU without ventilator (3rd category), Rs 18,000 for ICU with non-invasive ventilator (4th category) and Rs 20,000 for ICU with invasive ventilator (5th category).
A notification will immediately be issued for compliance by all the private hospitals in the state.
Dr War informed that the coverage extended by the MHIS is Rs 5 lakh per household and for each patient the ceiling is upto Rs 2.8 lakh.
Govt to help pvt hospitals  
The state government has also decided to back up private hospitals including mission hospitals for ramping up the ICU as well as oxygen plants in order to effectively tackle the second wave of the Covid-19 pandemic.
"We have decided to work together with the private hospitals to ensure there is no shortage of ICU facilities and beds for treating Covid patients," Tynsong said.
Traditional heads  
The deputy chief minister also informed that the deputy commissioners have been asked to hold consultations with all traditional heads for their support and cooperation to fight against Covid-19.
"I will also have a meeting at my level with the Synjuk Ki Nongsynshar Shnong as we really need to work jointly at the locality as well as village level," he added.