National
Modi, Johnson hold bilateral meet on Roadmap 2030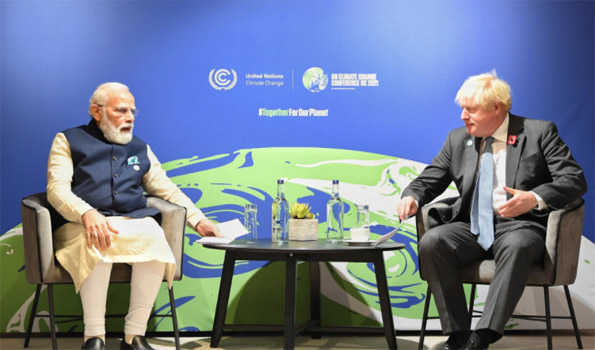 Glasgow/New Delhi, Nov 1 (UNI): Prime Minister Narendra Modi and UK Prime Minister Boris Johnson held a bilateral meeting on the sidelines of the COP26 in Glasgow on Monday, during which they discussed cooperation in areas like green hydrogen, renewables and clean tech.
Ministry of External Affairs spokesperson Arindam Bagchi in a tweet said the two leaders also exchanged views on economy, defence and people-to-people ties.
"Marching ahead on Roadmap 2030.
"PM @narendramodi met UK PM @BorisJohnson in Glasgow today. Congratulated him for successfully organising @COP26
"Discussed cooperation in areas like green hydrogen, renewables & clean tech. Also exchanged views on economy, defence, P2P ties," he posted.
The Roadmap 2030 was launched during the India-UK Virtual Summit held on May 4, 2021 between the two prime ministers.
On October 22, UK Foreign Secretary Liz Truss had visited India during which she held talks with External Affairs Minister S Jaishankar and both undertook a detailed review of the Roadmap 2030.
Also, Modi and Israeli Prime Minister Naftali Bennett were seen meeting like close friends, as they shared a hug and chatted animatedly with their arms on each other's shoulders, though it was their first meeting on Monday.
"It was truly great to finally meet you, @NarendraModi," the Israeli PM said in a tweet.
The Israeli Ambassador in India Naor Gilon, retweeting the post, said:
"Another important milestone in the great relations between India and Israel. PMs @naftalibennett and @narendramodi meeting at #COP26Glasgow."