Shillong, Oct 11: The mortal remains of trainee mountaineer from Upper Lumparing, Tiklu Jyrwa (34), were laid to rest on Tuesday evening at Presbyterian Church cemetery, Lumparing.
Earlier in the afternoon, prayers were held at Jyrwa's residence following which the coffin containing his mortal remains was placed in an ambulance and transported to the cemetery.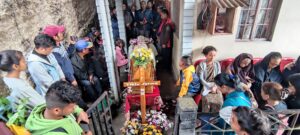 Relatives, neighbours and friends were present at the residence of the deceased and at the cemetery.
Special prayers were held at the cemetery before the burial of the body.
Representatives of Meghalaya Sport Climbing and Mountaineering Association paid tribute to the departed soul.
Jyrwa and 40 other trainees of Advance Mountaineering Course besides the instructors of NEHRU Institute of Mountaineering (NIM), Uttarkashi, went missing on October 4 after an avalanche struck them while climbing the summit of Mt Draupadi Ka Danda II at Uttarakhand.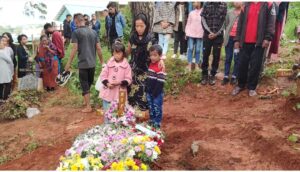 Jyrwa's body was identified by his brother-in-law and mountaineer Wallambok Jyrwa on October 8 and the next day, the mortal remains were brought home.
The mountaineering instructors had considered Jyrwa as one of the best and toughest trainees and he was also nominated for best trainee of the course among the 122 trainees.
According to Wallambok, Jyrwa was leading the team of trainees during the incident.
Jyrwa, who was a member of Meghalaya Sport Climbing and Mountaineering Association, was sponsored by the Directorate of Sports and Youth Affairs for the advance mountaineering course.