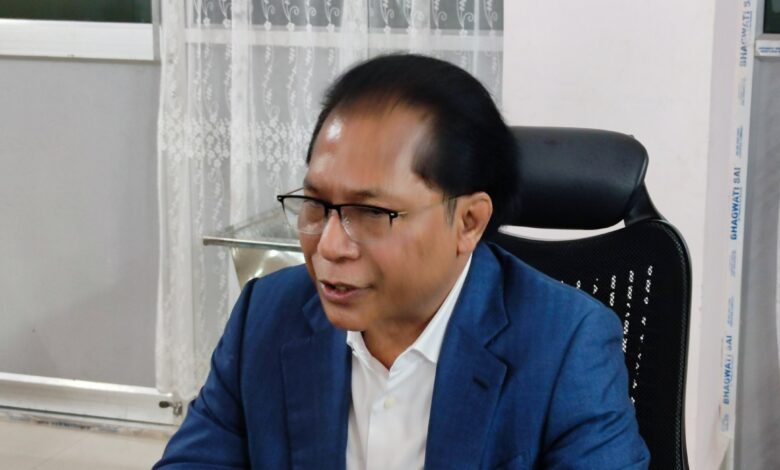 Shillong, Sep 15: Former Chief Minister Mukul Sangma is yet to decide on joining other political parties.
Speaking to reporters on Friday, the TMC leader also denied meeting any BJP leader.
He stressed on building Meghalaya as his priority.
In response to the claim by BJP state president Ernest Mawrie that he was not allowed to join the party by the senior leaders of the Centre, Mukul said "Has he (Ernest Mawrie) met me? Or has Dr Mukul met any of them? Please ask them. Okay their politics does not probably happen without my name that is a different thing. Please ask them, don't ask me".
The TMC leader said he is studying the  political dynamic of the state before deciding the future course of action due to the outcome of the 2023 Assembly polls where the AITC managed to win only five seats in the 60-member House
"Therefore, it is necessary for all of us to have an exhaustive due diligence of the overall political dynamics that have unfolded and the way it is going to be unfolded in the years to come and how we will navigate through this kind of situation, navigate for what, Navigate for ensuring that our objective which revolves around serving the people with utmost sense of commitment and dedication and honesty and give the best that we can," he said.
Mukul questioned the failure of political parties in Meghalaya to create a sense of oneness. "Has any political party been able to create this sense of oneness. I am afraid I am not seeing it. So there is a big challenge before us. So you can understand the burden on me as to what must be going on in my mind. Do you subscribe to the kind of environment that has unfolded in the preceding months? Do you want to see these kinds of similar things where everyone thinks my future is at stake? No, we don't want to see that. Everybody should have that sense of hope where they see that the future is going to be better and when this can happen I think we are on the right path but at the moment this is not happening so we will have to make it happen", he said.