National
National Press Day: Rahul slams BJP over attacks on scribes
IJU demands justice for 22-year-old Bihar journalist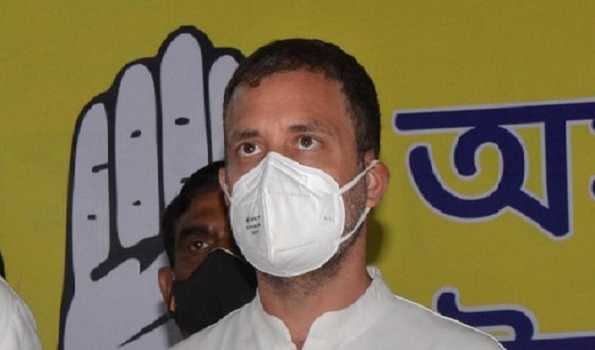 New Delhi/Guwahati, Nov 16 (UNI & agencies): Congress MP Rahul Gandhi on Tuesday attacked the ruling BJP-led dispensation over reports of alleged attacks on journalists.
Recently, a young journalist and RTI activist from Bihar's Madhubani was found dead after he went missing for few days.
"When there's punishment for speaking the truth, it's clear that falsehood is in power," said the Congress leader in a tweet without naming anyone, along with hashtag 'National Press Day'.
The former Congress president also attached a photo collage in which he has highlighted the media reports on attack against the scribes and vandalism in a daily's office in Tripura in September this year.
He also highlighted a media report of December 2019, which had claimed that 40 journalists were killed in India in the last five years.
On November 14, Gandhi had accused the ruling BJP of killing journalism while reacting to the arrest of two journalists by Tripura police.
On the same occasion, Information and Broadcasting Minister Anurag Thakur called upon the media fraternity to make all-out efforts to curb the menace of fake news and fake narrative.
In a video message on his twitter handle, the minister said the Government of India on its part has taken measures like establishment of a fact check unit in the Press Information Bureau (PIB) which is gaining popularity.
The messages from politicians come at a time when the Indian Journalists Union (IJU) is demanding justice for 22-year-old Buddhinath Jha from Bihar and discarding all legal procedures against two female journalists by the Tripura government in Agartala.
Jha used to report on many fake medical clinics operating in his locality. He was initially offered some money by the illegal clinic owners, but when he did not respond, they started threatening him of dire consequence.
Also, two Delhi-based reporters namely Samriddhi Sakunia and Swarna Jha, who were arrested by Tripura police, lately got bail from a local court. They were detained by Assam police in Karimganj locality following the request of their counterpart in Tripura.
They came to Tripura to cover the communal violence that erupted in the Bangladesh bordering State. They were on their way to come out of Tripura by road on Sunday and planned to reach Silchar.
"We warned in an earlier occasion also that the Tripura government was intimidating a number of social media users, including journalists under the stringent Unlawful Activities (Prevention) Act. But slapping brutal laws against the opposition voices will not serve the purpose and it would only aggravate the situation," said IJU president K. Sreenivas Reddy and secretary general Balwinder Singh Jammu.