North East
NE, Andaman on Centre's priority list for edible oils mission
Shillong, August 18: The Union Cabinet on Wednesday approved a new mission on edible oils with a special focus on the North East and the Andaman and Nicobar Islands.
The centrally sponsored scheme will be known as the National Mission on Edible Oils — Oil Palm (NMEO-OP). A financial outlay of Rs 11,040 crore has been made for the scheme, out of which Rs 8,844 crore is the Centre's share and Rs 2,196 crore is state share. This includes the viability gap funding also.
Under this scheme, it is proposed to cover an additional area of 6.5 lakh hectare (ha.) for oil palm till the year 2025-26, and thereby, reaching the target of 10 lakh hectares ultimately. The production of Crude Palm Oil is expected to go up to 11.20 lakh tonnes by 2025-26 and up to 28 lakh tonnes by 2029-30.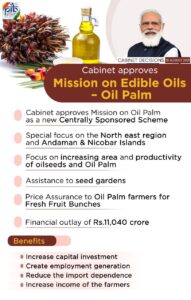 There are two major focus areas of the Scheme. The oil palm farmers produce Fresh Fruit Bunches (FFBs) from which oil is extracted by the industry. Presently, the prices of these FFBs are linked to the international CPO prices fluctuations.
For the first time, the Centre will give a price assurance to the oil palm farmers for the FFBs. This will be known as the Viability Price (VP) and will protect the farmers from the fluctuations of the international prices.
A formula price (FP) will also be fixed which will be 14.3% of CPO and will be fixed on a monthly basis. The viability gap funding will be the VP-FP and if the need arises, it would be paid directly to the farmers accounts in the form of DBT.
The assurance to the farmers will be in the form of the viability gap funding and the industry will be mandated to pay 14.3% of the CPO price which will eventually go up to 15.3%.  There is a sunset clause for the scheme which is 1st November 2037.
To give impetus to the North-East and Andaman, the government will additionally bear a cost of 2% of the CPO price to ensure that the farmers are paid at par with the rest of India.
To address the issue of shortage of planting material in the country, seed gardens will be provided assistance up to Rs 80 lakh for 15 ha. in rest of India and Rs 100 lakh for 15 ha. in North East and Andaman regions.