Sports
Neeraj Chopra back on top with historic gold for India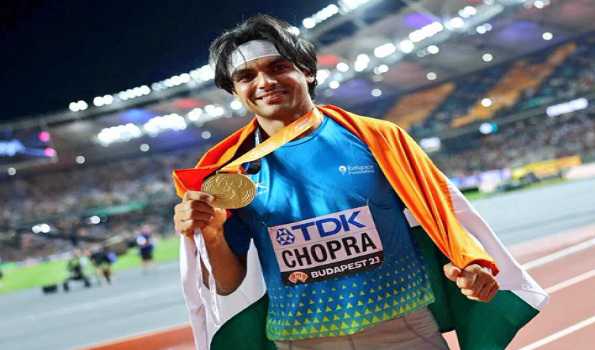 Budapest, Aug 28 (UNI): Each time Neeraj Chopra gets on the runway of a global championship, he takes down a slice of history and it was no different in the men's javelin final on the last day of the World Athletics Championships Budapest 23.
With his first legal throw of the evening (88.17m), which he secured on his second attempt after fouling on his first, the 25-year-old became the first athlete from India to strike gold in any event at the World Athletics Championships. He is also the first Asian athlete to win gold in the men's javelin, with his medal being his country's only one in Budapest.
Coming to the championships, the Olympic champion, who had experienced a bit of a disrupted season and was still trying to adapt to his technique, was not the farthest thrower.
That position belonged to Czechia's Jakub Vadlejch, who was making his fourth appearance in a World Championships final and was arguably the most experienced thrower in the field, having claimed silver in 2017 in London, and a bronze in Oregon.
The 32-year-old showed that he was still in top form, starting the competition with a season's best of 89.51m set in Finland.
His javelin landed at 82.59m in the first round to give him the lead but was pushed to second place when Oliver Helander recorded a superior mark of 83.38m in the same round.
However, the Finnish athlete, who was eighth in Oregon, couldn't better that distance, eventually succumbing to three fouls, and then registering marks of 81.44m and 82.85m, respectively.
The reverse was the case for Vadlejch, who recorded 84.18m on his second attempt to take him back to the top. However, his reign was short-lived, overtaken by the Indian athlete who charged down the runway, hauling his javelin 88.17m – a season's best – to top the pack.
Germany's Julian Weber then recorded a decent throw of 85.30m, displacing the Czech thrower from the top three. It was to be his best effort of the evening, though, and the 28-year-old had to settle for another fourth-place position, the same as in Oregon.
Commonwealth Games champion Arshad Nadeem, who hadn't competed all season as he returned after a long rehab process following elbow surgery late last year, recorded a big one in the third round.
The 26-year-old, who has a personal best of 90.18m, which he secured in Birmingham last year, threw 87.82m to instantly propel himself to second place. His next effort was also a big one but it fell 67cm shy of his previous throw.
Vadlejch bounced back into reckoning in the fifth round with a hurl of 86.67m, taking him to third position.
Chopra, who had two more of his teammates in the field – the first time in history for India – tried to throw farther but his subsequent throws landed at 86.32m, 84.64m, 87.73m and 83.98m. His compatriots Kishore Jena (84.77m) and DP Manu (84.14m) placed fifth and sixth at the end of the day.
And although his winning distance was 60cm shy of his silver medal-winning mark from Oregon, Chopra was just relieved to have taken the gold this time around.
"This was great. After the Olympic gold, I really wanted to win the World Championships," he said. "I just wanted to throw farther. This is brilliant for the national team, but it was my dream to win gold at the World Championships."
"This has been a great championship for India, and I am proud to bring another title to my country. I wanted to throw more than 90 metres tonight but it needs all parts of the puzzle to be there. I couldn't put it all together this evening. Maybe next time, " he said.
Last year in Oregon, the 2018 Commonwealth Games gold medallist became only the second Indian to win a World Championships medal of any colour after claiming silver behind Grenada's Anderson Peters, following in the footsteps of Anju Bobby George who scooped the bronze medal in the women's long jump in 2003.
Chopra wasn't the only one to make history in the men's javelin. Nadeem's silver becomes Pakistan's first-ever World Championships medal, making it an emotional night for the Olympic finalist in Tokyo.
"It's a really emotional day for me and my family and country", he said. "I'm over the moon. I hope I could make my country proud. I was in very good shape and I was confident. This silver medal means a lot to me and it motivates me to earn a better result at the Olympic Games. I will do everything I can to be the hero of Pakistan at the Olympics."