State
NGO for legal export of cattle to Bangladesh to end smuggling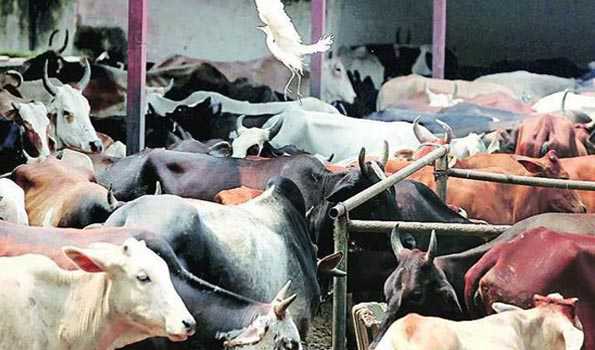 Shillong, April 19: Hynñiewtrep Integrated Territorial Organisation (HITO) has petitioned principal secretary in-charge Animal Husbandry and Veterinary department, GHP Raju regarding the unabated illegal smuggling of cattle.
In the memorandum submitted to the official on Tuesday, HITO referred to complaints of numerous whistleblowers and people on the ground that there are a large number of people posing as "dalals" smuggling cows and buffaloes  to Bangladesh misusing the official challans provided by the veterinary department which is actually applicable only in Meghalaya.
"We would also like to express our serious concern about the existence of some agents ( "illegal dalals" ) who charge and collect money from these trucks along the highway even after producing valid challans issued by the veterinary department for transportation of cattle . The HITO a month ago had officially complained to the district administration in the past but this illegal trade continues unabated", it said.
In case the department is facing shortage of enforcement staff, the HITO is willing to assist and provide volunteers on a payment basis to check the rampant smuggling of cattle all over the state, the organisation said.
HITO also urged the Animal Husbandry and Veterinary department to move the state government for an official resolution in the Meghalaya Assembly to urge the Centre to allow official export of cattle from Meghalaya (a beef-eating state) to neighbouring Bangladesh.
"It is also noted that many states in the mainland spend thousands of crores of rupees on feeding and maintaining the old/stray cows in the gaushalas. The state of Meghalaya could request the states to direct such cows/buffaloes to Meghalaya which can then utilise and convert this precious resource generating livelihoods for the public which will bring revenue to the state and the Centre.
HITO also recalled a statement by the Director General of Border Security Force in the media a few years ago that Indo-Bangla cattle smuggling is a million-dollar trade that is extremely difficult to totally eradicate.
Hence, HITO urged the Centre through the state to consider the practical suggestion to legally allow cattle export from Meghalaya which will then to a large extent regulate and control the unabated smuggling of cattle all along Assam, Meghalaya West Bengal, Mizoram and Tripura.
"We do hope that since the BJP is part of the MDA government, the party will take the matter seriously for the benefit of the people, the state and the Centre", he said.