Sports
Over 3k runners participate in Sohra Half Marathon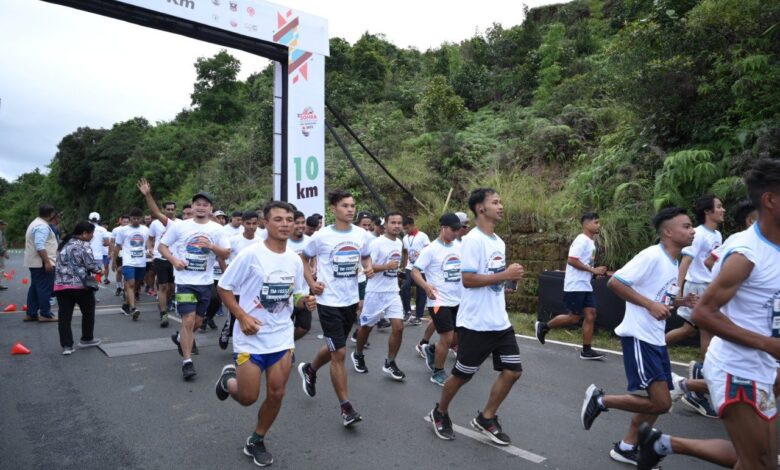 Sohra, Sep 30: The 2nd Sohra International Half Marathon concluded in style with the backdrop of the Seven Sisters Falls for the Closing Ceremony.
More than 3,000 runners, including over 1,200 children, in all categories turned up in the early hours of Saturday morning.
The event, recognised by World Athletics and the Athletics Federation of India, began with the 21K event, and had the 10K and Run for Fun (5K) begin in a staggered fashion. Runners from Assam, Uttar Pradesh, and New Delhi came for the run, including International seasoned marathoners from countries such as Kenya.
The flag-off for the events were done by Vijay Kumar, Commissioner and Secretary, Sports and Youth Affairs, Isawanda Laloo, Director, Sports and Youth Affairs, Hema Naik, SDO Civil (Sohra), and John F. Kharshiing, Working President, Meghalaya State Olympic Association.
The 21K Elite Category was won by Elkana Rolo from Kenya who completed the run in 1:06 Hours. The Indian runners were not far behind, with the 21K Elite Womens's Category being won by Renu Singh with a timing of 1:10 hours. In addition to the podium places, awards were also given to up to 5 Consolation places.
The highlight of the event, however, was the Run for Fun category, where over 2,000 runners participated, some as young as 6 years old.respectively
The closing ceremony was graced by the presence of Shakliar Warjri, Sports and Youth Affairs, as well as the MLAs of the Sohra and Shella constituencies Gavin Mylliem and Balajied Synrem, respectively,
Going forward, the Department will continue to build the legacy of the Marathon, and improve the sporting ecosystem of Meghalaya.