The Covid-19 pandemic and the subsequent lockdown have changed the course of life. As distances grew, many young lovers, separated by a deadly disease and health protocols, found themselves grappling with emotions.
'Weak', the latest solo project by B.A.D trio, is all about forlorn hearts and insecure minds. The song was released on August 7 after a long delay.
The song, which is B.A.D's seventh solo release and the first this year, revolves around a person's insecurities in a relationship and how this adversely affects both partners. The distance created by circumstances makes it worse.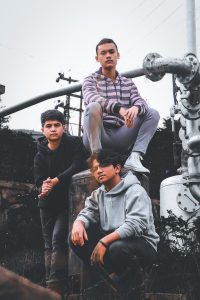 The B.A.D trio — Benjamin Mawrie, Aleric Terry, Dipankar 'Dtrx' Diengdoh — formed the music production house in 2019. The 20-year-olds' musical expertise lies in the genres of hip-hop, pop/R&B and EDM, among others. Duncan H Kharmalki, aka DJ Knack, he has been pivotal in guiding the young talents.
The idea for 'Weak' was conceived by Dipankar during the lockdown last year. After a team discussion, the trio decided to give shape to the idea. "We wrote the lyrics together and keeping in mind that the song must be relatable to the young generation and the emotional crisis they have gone through," said the B.A.D members, who have worked with artistes like Frank SYnister, DJ Karma and HepRo07, to name a few.
It took a month to record the song, sung by Dipankar, and shoot the video, which was conceptualised by Balajied 'Balvo' Sungoh. Evan Phanbuh and Dauni Laloo were also instrumental in making the video.
The group's plan to release the music video was delayed for months owing to the prevailing situation. "Now, the official music video is available on YouTube and on all streaming platforms, including Spotify, iTunes/Apple Music," B.A.D said.
With over 6,000 views on YouTube already, it is in no way a weak start for the B.A.D trio.