Headlines
Police to ensure maximum punishment to teenager
Killing of girl in GH reveals lack of societal & parental control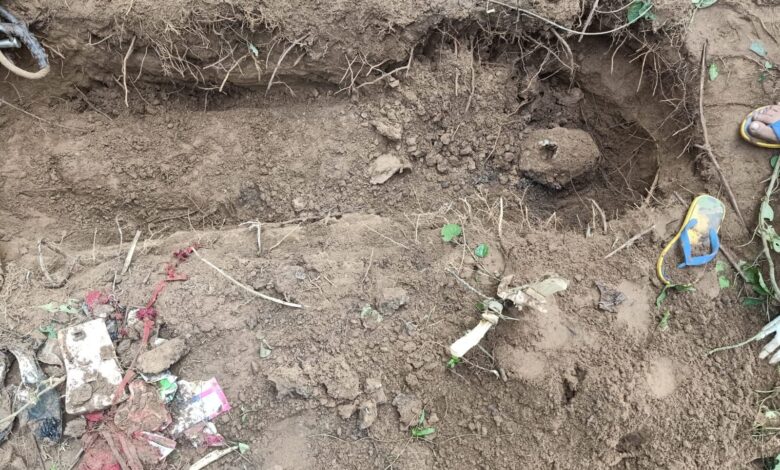 Shillong,June 26: West Garo Hills police is working to ensure maximum punishment to the accused involved in killing his girlfriend.
The body of the 19-year-old girl, who went missing on April 20, from Tura, was recovered  on Saturday from a grave (in picture) in a jungle under Bajengdoba, North Garo Hills after her lover, Solesh R Marak (20) confessed to murdering her with the support of a juvenile.
Though the age of the juvenile is 17, as per a certificate, it is around 15, police said.
The house of the accused is not far from the area where the body of the girl was exhumed.
Suspicion and jealousy over the girl apparently having a separate affair have probably led to the crime.
Police said the accused strangulated the victim and buried her on April 20, the same day she went missing.
The girl, who was originally from North Garo Hills, came to Tura for better education.
She was staying alone in a rented house in Tura and the accused and the victim used to meet each other, police added.
The West Garo Hills SP, Vivekanand Singh Rathore said since the FIR was filed five-six days after she went missing, there was a delay in starting investigation.
"The investigation is coming to a conclusion and we will ensure maximum punishment to the accused", the SP said.
Rape angle yet to be ascertained
As the body was fully decomposed, no biological samples were available and hence it is difficult to scientifically establish rape, police said.
Though the  accused was identified on June 22 followed by the recovery of the body on June 25 , the police have been working on the case after the FIR was lodged.
Call for societal and parental control 
The police have called for societal and parental control of the teenagers to prevent similar crimes.
If the teenagers are away from home, the parents should be aware of their whereabouts, the police said, adding the house owners should also check the antecedents of people residing in rented accomodations and the visitors.
Social activist Jaynie Sangma said this is a wake-up call to end similar crimes in Garo Hills.
"Way back in 2014, we had created awareness on the need of having local guardians for all those who stay in rented houses", she said.