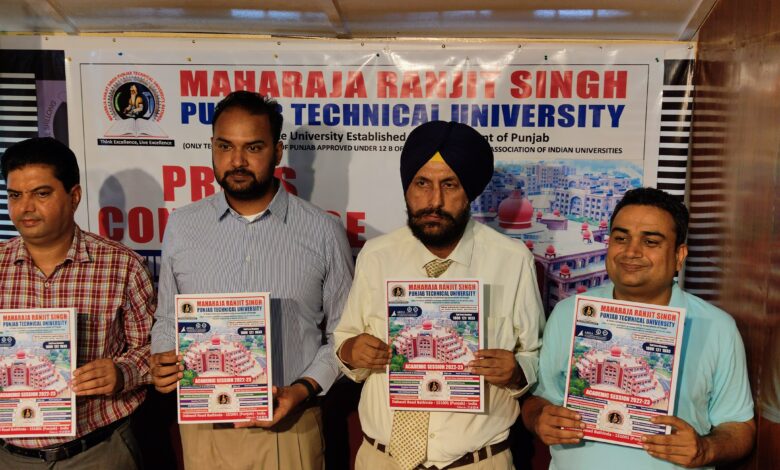 Shillong, Aug 3: The Punjab Government established Maharaja Ranjit Singh Punjab Technical University (MRS-PTU), Bathinda (Punjab) has offered courses for the students of far flung areas of the North East in quality technical education, best placements in government as well as private sector.
Addressing a press conference on Wednesday, Harjinder Sidhu ,Director, Public Relations of the University said it will also provide attractive scholarship schemes, welfare schemes of the Center and state government for North East students besides ensuring safety and security environments for  students in the premier institute of Punjab government.
Besides Harjinder, the Registrar, Dr. Gurinder Pal Singh Brar, along with senior officials Dean Consultancy and Industry Linkage-cum-Chairman, Admission Cell Dr. Manjeet Bansal, and Director, Training and Placement Harjot Singh Sidhu of the University were in Shillong to start on spot admission and counselling of the MRS-PTU for North East states.
MRS-PTU Chairman Board of Governors-cum-Principal Secretary to Government of Punjab, Department of Technical Education & Industrial Training Punjab, Rahul Bhandari  and Vice Chancellor Prof. Buta Singh Sidhu recently launched the admission portal of the University for the Academic Sessions 2022-23.
The admission for academic session 2022-23 is open for engineering, architecture and planning, commerce and management,
pharmacy, food science and technology, agriculture, aeronautical, aerospace,
computational sciences, physics, chemistry, mathematics, skill development and
online certified courses in emerging technologies i.e. data science, block chain,
programming languages, cyber crime and others.
Dr. Brar said technical education plays a vital role in human resource development of the country by creating skilled manpower, enhancing industrial productivity and improving the quality of life of its people.
Dr. Brar said University provides environment friendly cutting edge technology and promotes the use of science and technology for bolstering development and national growth of students.