Headlines
Rehearsal for Shah disrupts essential works
Shillong, July 22: The rehearsal carried out on Thursday for the visit of Union Home Minister Amit Shah on July 24 and 25, without any prior announcement, has irked several city residents.
As vehicles were stopped for a few hours in several parts of the city starting from Upper Shillong, it has caused inconvenience to people who had to visit hospitals for Covid related essential works.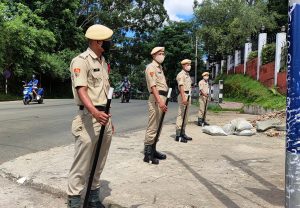 Murmurs of resentment were also heard from some farmers, taxi drivers, vendors and office-goers as they were affected.
Some police personnel had to do additional duty for the rehearsal standing for hours.
When asked, a police official on rehearsal duty said he cannot comment anything as it is order from 'above'.
Shah to open incomplete ISBT project
The state government has entrusted the union home minister to inaugurate the incomplete Inter-State Bus Terminus (ISBT) project at Mawiong on Saturday. When asked, a transport department official did not give any direct reply.