Shillong, July 31: The body of RG Lyngdoh was consigned to flames at Mawbah electric crematorium in the city, on Sunday.
After the cremation which started at 3.45 pm and ended at 6 pm, the relatives carried his ashes in earthen and metal pots.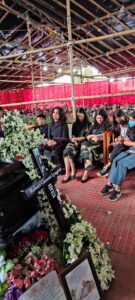 The ashes will rest for sometime at his residence in Nongrim Hills and later they will be placed in his coffin to be buried at his farm house in Umsning.
Lyngdoh, popularly and fondly known as RG, Bob and Bah Bob,  had desired to be cremated.
A poem penned by him was full of his longing to be part of the universe after being cremated with billowing smoke and flames and the relatives faithfully fulfilled his last wish despite their Baptist and Catholic inclinations.
People from all walks of life accompanied the mortal remains of Lyngdoh to Mawbah from his residence at Nongrim Hills.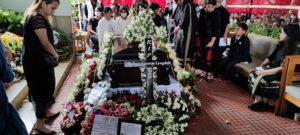 Earlier in the day, prayers, words of comfort,  scripture reading and songs marked the tribute paid to the multi-faced personality in the presence of relatives,friends and others, who thronged his residence to pay respect to the departed leader.
Besides prayers, his favourite songs (Blues) were sung by Daryll Diengdoh of Blue Temptation supported by Shepherd Najiar and Gregory Ford Nongrum for RG who was a musician. RG's brother Herbert  Lyngdoh also joined them.
The service included instrumental music produced by master Lian (grandson), prayer by decaoness Atola Subong, special song by  Eden Rumnong (niece), speeches by, Ampareen Lyngdoh, Zachariah Nongkynrih (eldest son) and Careen Lyngdoh (sister).
Word of God by Pastor Rev Dr Meyu Changkiri, closing hymn "It is well with my soul", closing prayer and benediction followed.
Shillong MP Vincent Pala, Cabinet Minister Sanbor Shullai and North Shillong legislator Adelbert Nongrum attended the funeral.
The former home minister passed away on July 29 after a prolonged illness.
The relatives said after he was diagnosed with cancer he was in and out of hospitals but finally succumbed to his illness at home.