State
Rotary Club awards green activists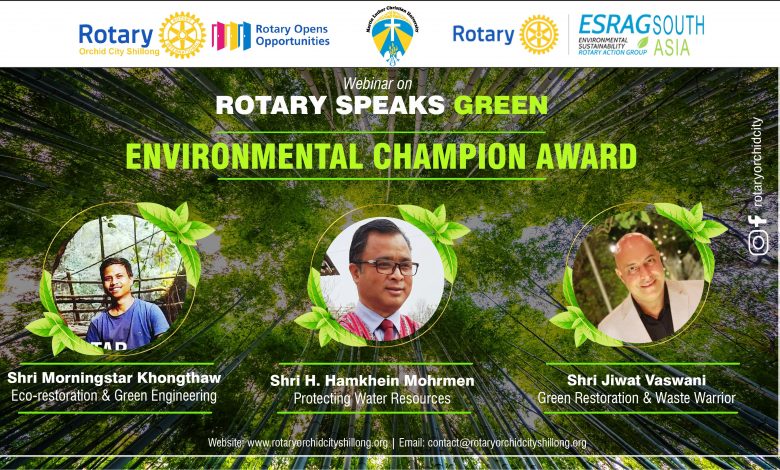 Shillong, June 29: Rotary Club of Orchid City, in collaboration with Martin Luther Christian University g and ESRAG South Asia, organised a webinar on "Rotary Speaks Green" on Tuesday.
In a statement, the Rotary Club said that during the webinar, three notable environmentalists were awarded with 'Environment Champion Award' by the club for their significant contributions in protecting environment, fighting with waste and pollution, making city greener and cleaner & eco-restoration activities. The recipients of the award  are  Morningstar Khongthaw,  Jiwat Vaswani and H  Hamkhein Mohrmen.
According to the statement, Khongthaw is well known for his efforts to maintain the root-bridges in Meghalaya and has been recognised by many government/non-government institutions/organisations and was also recently featured by The Better India magazine.
Mohrmen is an independent environmentalist and is known for his efforts to safe-guard water bodies in the Jaintia Hills region from the mining pollution.
Vaswani is known for his environmental clean-up efforts and his green initiatives to make the Shillong city cleaner and greener.
Vaswani is also the Managing Director of Jiva Hospitality (India) Pvt. Ltd, Shillong.
Khongthaw, Mohrmen and Vaswani thanked Rotary Club of Orchid City Shillong, MLCU and ESRAG South Asia for recognising their efforts to protect environment in the state. They added that the recognition has encouraged them to do much more and will also encourage everyone to join hands in protecting environment in the city and the state.
Three speakers attended the webinar.  Kynsai Ria Kharkhongor who is a bird-watcher talked about different birds that are found in the state. Rtn Reema V Diengdoh, a member of RC Orchid City Shillong, delivered a talk on "Youth's Role in Protecting Environment". Rtn Jaideep Malaviya, director, ESRAG South Asia spoke on reducing carbon footprints.
He also encouraged everyone to use carbon footprint calculator which is freely available for use at ESRAG SouthAsia Website. District governor, Rotary District 3240, Rtn Subhasish Chatterjee graced the webinar as chief guest and Rtn  Meenakshi Venktarama, Chair, ESRAG South Asia was the guest of honour. The webinar was attended by rotarians, researchers, experts, students and citizens from throughout the country.