National
Several dead, over 300 injured as two express trains collide, derail in Odisha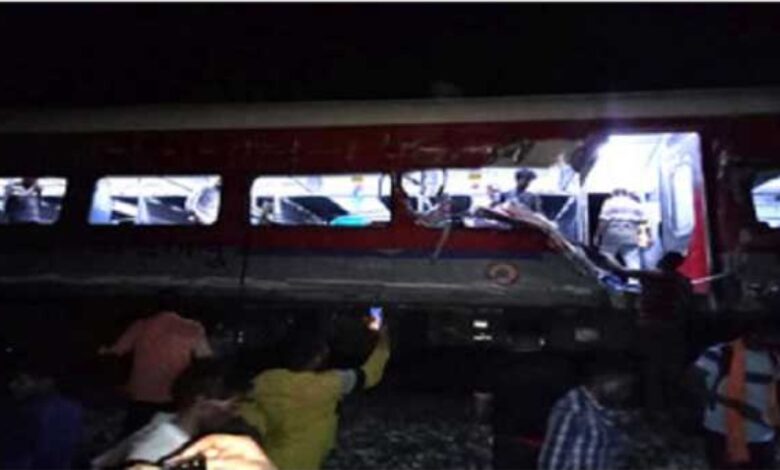 Bhubaneswar, June 2 (UNI): In one of the worst rail accidents in recent times, several passengers died and over 300 were injured when two express trains collided and derailed near Bahanga station in Odisha's Balasore district on Friday evening.
The casualty figures are likely to mount as the body count is done,
As many as 17 coaches derailed in the mishap. that occurred around 7 PM.
Railway Spokesperson Amitabh Sharma said 10 to 12 coaches of the Shalimar Chennai Coromondal express derailed near Balasore and fell on the opposite track. After some time the other express train dashed into those derailed coaches. As a result, 3-4 coaches of that train also went off the track, he said .
The Odisha government officials said over 300 were injured and several died in the accident. "The bodies are being counter".
However, in Kolkata a South Eastern Railway spokesperson confirmed only two deaths.
"We have so far got confirmation of two deaths," the official told UNI in Kolkata.
Railway Minister Ashwini Vaishnaw will visit the site on Saturday. Odisha Chief Minister Naveen Patnaik will also go to the spot on Saturday.
Prime Minister Narendra Modi said he was distressed by the train accident and spoke to Vaishnaw and took stock of the situation.
"In this hour of grief, my thoughts are with the bereaved families. May the injured recover soon. Rescue operations are underway at the site of the mishap and all possible assistance is being given to those affected," the prime minister tweeted.
The train, coming from West Benga's Shalimar, carried many people from the state, some of whom were seriously injured, said Chief Minister Mamata Banerjee.
"Shocked to know that the Shalimar-Coromandel express, carrying passengers from West Bengal, collided with a goods train near Balasore today evening and some of our outbound people have been seriously affected/ injured," she said.
Several passengers are said to be trapped, under the coaches, sources said.
Odisha Chief Minister Naveen Patnaik has asked state Revenue Minister Pramila Mallik and Special Relief Commissioner Satyabra Sahu to go to the spot and supervise the rescue operation.
The authorities have deployed more than 25 ambulances and NDRF and ODRAF and fire team in the rescue and relief operation.
Four senior officers including DG Fire Sudhansu Sarangi are also supervising the rescue operation.
As total darkness prevailed in the area the rescue teams are facing problems in the rescue operation.
Odisha DGP Sudhansu Sarangi said very soon arrangements for light would be made for conducting a speedy rescue operation.
While the Odisha government has issued emergency no 06782262262286 the railways have issued helpline 033-26382217 for Howarah, 8972073925 for Khargarpur, 8249591559 for Balasore 9903370746 for Shalimar.