Samiran Bhuyan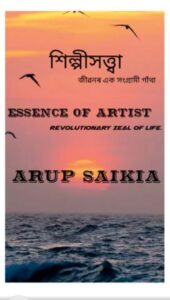 'Silpi Satta' means the essence of an artist. Written by Arup Saikia, the poems are based on the present perspective of socio-cultural and personal thinking of human beings. This book of poetry is one of a kind of symbolic expression of human thoughts in various periods of life.
Saikia said, "The vicissitude of our thoughts go through depression, expectation, romanticism and pristine nature with a holistic approach to everyone. The revolutionary zeal and subsequent conflicts with rulers, companions and beloved ones are reflected in Silpi Satta."
The poetic fame of Saikia rests primarily on his socio-cultural poems rather than on nature separated from humans. The poet's ideas are stimulated by feelings of surrounding traditional happening in day-to-day life.
The compromising nature of so-called artists cannot acquire the genuine aspects of people's art. This is beautifully depicted in poetic or allegorical verses. This has established him as a poet of his own style without imitating anybody.
The poet projects writing ideas above fancy passion and reasoning above emotional thoughts. This is one of the reasons for gaining a good number of readers. The spontaneous creative skill sometimes may blur the rationale of a particular subject which explains the belief or outlook. The reading and recitation of some poems have a good rhythmic vibration.
The artisan of words can only write poetry. The radiant focus on lyrics to articulate precisely is the prime characteristic of poetic verses. The poems like Abhinav Sankerdev and Chaolung Sukhapha represent the presentation of patriotic beauty that is an aloof parochial sense in its content and spirit.
Saikia is an artist of tradition. He mingled with all sections of people for performance and travelled a lot. His cultural journeys were from advanced liberal European countries to the conservative Arab world. The emergence of poetry from such a mobile milieu expresses itself as poetry of peculiar excellence. For the interest of depicting a sense of life, the poet takes recourse to a careful plot, walking at a slow relaxed speed.
The book contains 47 pages and readers will get a different taste while reading this book.
Book: Silpi Satta; Author: Arup Saikia; Publisher: Gunjan Kakoty; Pages: 47; Price: Rs 100
(The author is a writer, cultural activist and motivational speaker)