North East
Sonowal likely to be elected to RS unopposed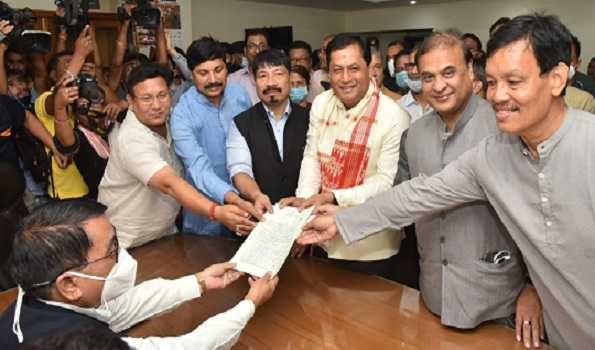 Guwahati, Sept 21 (UNI): Union Minister Sarbananda Sonowal on Tuesday filed his nominations for the Rajya Sabha bypoll from Assam, and is likely to be elected unopposed as opposition parties have decided not to field a candidate.
"Submitted my nomination for the Rajya Sabha polls, at Assam Legislative Assembly," Sonowal said in a tweet.
The opposition camp — Congress, AIUDF and others — have decided against fielding a candidate for the seat. Sonowal thanked the opposition for not putting up any candidates against him in the polls.
He was accompanied by Chief Minister Himanta Biswa Sarma, Atul Bora of Asom Gana Parishad and Promod Boro of the United Peoples Party Liberal (UPPL) – both are partners in the BJP led government in Assam.
Sononwal was the chief minister of Assam from 2016 to 2021. He stepped down and after the BJP won elections again in 2021, and Himanta Biswa Sarma became his successor. Sonowal is presently an MLA from Majuli in Assam.