Headlines
Speaker calls for collective effort to contain Covid  
Varied suggestions emerge during meeting with all MLAs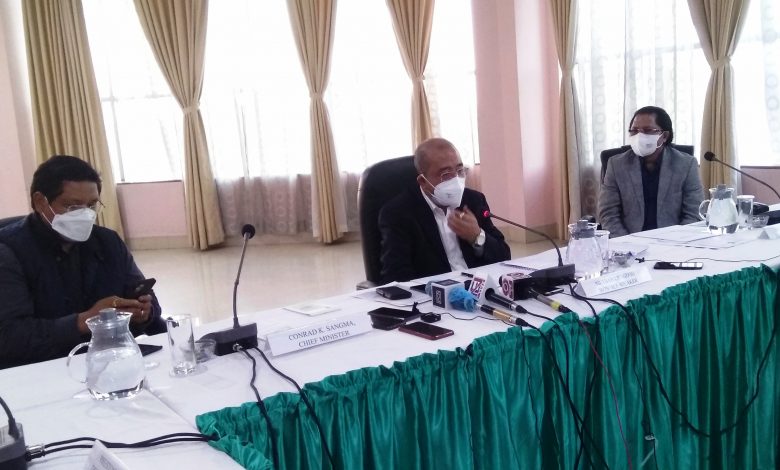 Shillong, May 19: The Assembly Speaker Metbah Lyngdoh,who convened a meeting of all legislators on Wednesday, stressed the need of collectively fighting the Covid infection.
Many suggestions were aired during the all-party meeting.
Speaking to reporters after the meeting, Lyngdoh said all suggestions were taken note of to strengthen the health care system.
He also appealed to the citizens to remain calm and ensure  vaccination as advised. "This will increase immunity", he said.
According to the speaker, last year, the team work was a success and this time too, there is a need on the part of the citizens to take care of themselves by adhering to protocols as the government is giving all the support.
" The leaders of traditional institutions, NGOs, church leaders and other stakeholders should come together", he added.
To a question, the Opposition Leader Mukul Sangma said since the state is in the midst of a pandemic, the focus should be on saving life.
"How we can minimise the loss of life is important. We lost substantial number of people. We extend our condolences. The meeting has provided a platform to share our ideas to fulfill the purpose of checking the spread of infection", he said.
Vitamin D a must: Mukul
Sangma, who is also a medical doctor, asserted that there is a need to boost the immune system.
"We need to look at boosting our immune system. The trend is that the younger population is affected due to their lifestyle. The way of life of millennial children is a matter of concern as they prefer junk food. Their life style is not boosting the immune system. Vitamin D is most important", he said.
CM for vaccination  
Chief Minister Conrad Sangma said that the government is moving on a war-footing to fight Covid and the vaccination can check the rising trend.
"Today,we presented the data of four weeks, we are moving on war footing. Vaccines have come during second wave. Today's meeting was  to give a powerful message that the Opposition and the ruling are working together.
To a question on the delay to administer the second dose for those have already taken the first dose, the chief minister said the delay is due to the new direction of the central government that the second dose will be administered 12 to 16 weeks after the first dose.
Vaccine shortage a reality   
Health Minister AL Hek said that the shortage of vaccine is a reality and the state government has already written to the Centre in this regard. "Not only Meghalaya, other states too are facing the problem as we face. We are still pursuing the matter with the central government", he said.