State
TMC students' wing stages protest for fair recruitment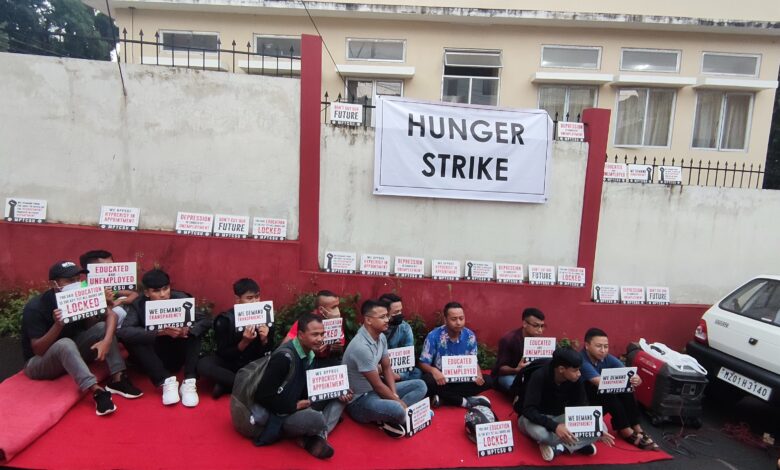 Shillong, Sept 8: Meghalaya Trinamool Congress Students' Union staged one day hunger strike demanding transparency in the recruitment process of MPSC.
The protest was held near MPSC office in the city.
Led by Bansharailang Pyngrope, President of Meghalaya TMC's Students' Union, the members protested against the rampant mismanagement in employing youth of Meghalaya through MPSC examinations.
The recruitment process of the MPSC has always been a long drawn out affair since the last recruitment exams were held by MPSC in 2019. In addition, exams for 328 posts advertised on December 14, 2020 are yet to be held.
They blamed the NPP-led MDA government in terms of a huge discrepancy in job vacancies.  "The Chief Minister had declared 2000 job vacancies in the police department during the Assembly session, but when he invited a group of protesting students, he said only 800 vacancies were available. The youth wants justice and transparency in the recruitment process", Pyngrope said.
He added that the examinations must follow the set procedures.
"Unlike the State Bank examinations and SSC, MPSC does not follow a calendar. Neither are the marks made available to the public. There are no fixed parameters in the interviews. Are these posts being filled by backdoor entries?"Pyngrope said.
With the growing unrest in the youth, the MDA government's complacency and disregard will not go unnoticed, he said.
The state's future is at stake in the hands of the inept proxy-BJP government that pays no heed to the future of the youth, he said. "Meghalaya TMC would continue raising their voice until the people of Meghalaya are freed from the tyrannical clutches of the MDA government", he added.