Sports
Tough draws stare at Indian paddlers at Tokyo Olympics- TTFI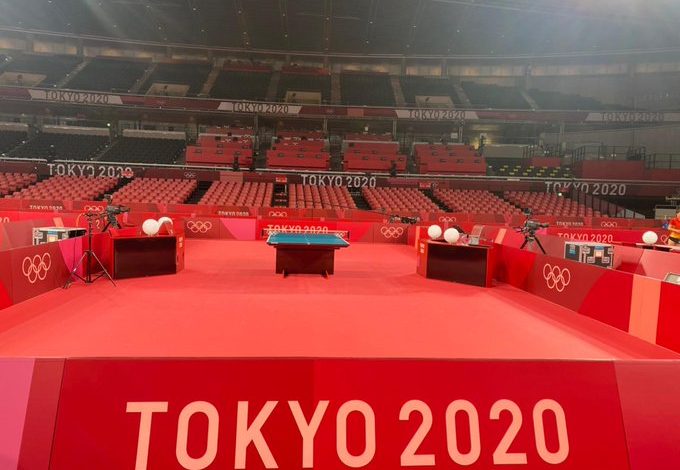 Kolkata, Jul 22 (UNI) The Olympics draw for the table tennis events puts the Indian paddlers in a straitjacket as the mixed pair of A. Sharath Kamal and Manika Batra will faceoff third-seeded Lin Yun-Ju and Cheng I-Chin in the first-round match, beginning at the Tokyo Metropolitan Gymnasium on Saturday.
The Indian duo that won a bronze in Jakarta Asian Games will not have it any easy against the Taipei pair, a left-right combination. The left-handed Lin, ranked No. 6 in the world, has speed and potent forehand while Cheng, ranked No. 8, brings in a lot of experience and variety.
However, Sharath and G. Sathiyan can look ahead as they will not step onto the arena until the second round of the men's singles on Sunday. Sharath, the top-ranked Indian in the world at 32, will take on the winner of the match between Tiago Apolonia of Portugal and Olajide Omotayo of Nigeria, while Sathiyan, ranked 38, will meet either Brian Afanador of Puerto Rica or Lam Siu Hang of Hong Kong, according to Table Tennis Federation of India's Secretary General Arun Kumar Banerjee.
Though their passage into the third round looks like a certainty, their problems also begin in the same round as Sharath will run into second-seeded Ma Long of China, also the Rio Olympics champion. Sathiyan, on the other hand, will meet fourth-seeded Tomokazu Harimoto of Japan.
Sathiyan has once beaten Harimoto in the Asian championships in 2019. However, Sharath has never won against the Chinese whom he has met twice, in 2011 and 2012. But in the women's singles, it will be tough for both Manika Batra and Sutirtha Mukherjee.
In their first-round clashes Saturday, Manika, who is ranked 61, will take on Great Britain's Ho Tin Tin, ranked 99. On the other hand, Sutirtha will meet Linda Bergstrom from Sweden, a higher-ranked player.
It was Linda who put paid to India's ambitions during the team events in Gondomar last January. Manika has beaten Tin Tin once, but the Indian will be wary of the English player. If Manika manages to go through, she will take on Margaryta Pesotska of Ukraine (No. 36) in the second round and then Sofia Polcanova of Austria (No. 17) in the next. But for Sutirtha, it is a big ask against Linda, ranked 70 in the world.
The Indian has next in line Yu Fu from Portugal (No. 55) in the second round and much tougher Mima Ito of Japan (No. 30) in the third.