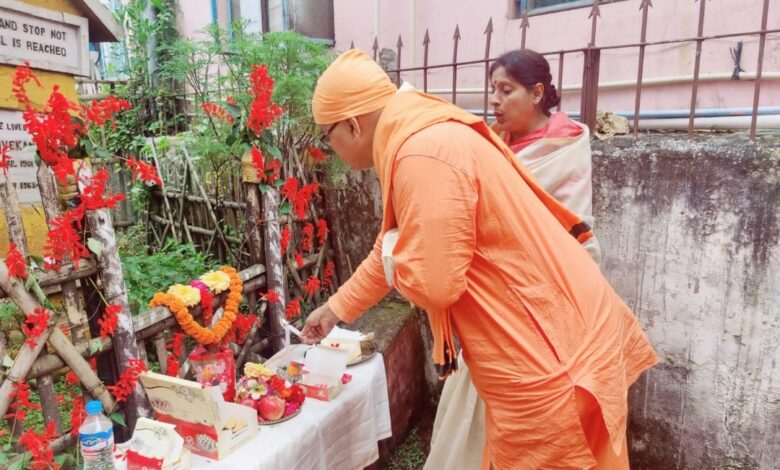 Shillong, Sept 11: Swami Vivekananda admirers paid tribute to Swami Vivekananda at his memorial plaque at Batti Bazar Laban on Sunday morning.
Swamiji stayed here in 1901.
Swami Hitakamanandaji Maharaj Secretary RKM Shillong lit the anniversary lamp and Swami Divyaswarupanandaji Maharaj did puja by chanting Vedic Mantra of Sanatan Hindu religion. Members of Sarada Samiti Laban Shillong sang "Matri Charone Prarthana". Swami Vivekananda admirers requested Swami Hitakamanandaji Maharaj to extend help to save the heritage site after the memory of Swami Vivekananda with the support of the state government.
Organiser Malabika Bisharad said PMO had accepted her request to make the place as a heritage site and directed the state government to do the needful.
She also said it is very unfortunate to see the place where Swami Vivekananda once stayed in a dilapidated condition.
The plaque also needs repair.
The heritage site is under litigation and a big storeroom has been built in place of the heritage place, she said.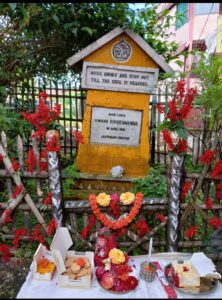 Swami Hitakamanandaji Maharaj urged the organisers to keep a picture of Swami Vivekananda on Chicago address anniversary. He also inspected the place where Swami Vivekananda stayed. Swami Divyaswarupanandaji Maharaj gave blessings to all the devotees present.