North East
Two Tripura BJP MLAs resign, call leaders 'cheats'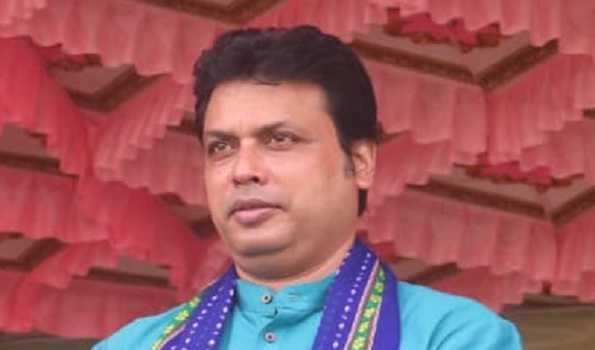 Agartala, Feb 7 (UNI): The BJP received a jolt on Monday in Tripura after two senior legislators — Sudip Roybarman and Ashis Kumar Saha — resigned from the assembly and primary membership of the party, dubbing its leaders 'cheats' and 'disloyal' to democracy.
Both the leaders later left for New Delhi and indicated they would join the Congress in the next couple of days after final discussion with its leaders Priyanka Gandhi and Rahul Gandhi and chief Sonia Gandhi and other top leaders.
With the resignation of the two MLAs, BJP's strength has reduced to 33 in the 60-member assembly.
The ruling BJP-IPFT coalition still has 40 legislators. Roybarman told the media before leaving for Delhi that BJP-IPFT government will become minority very soon, as many of the legislators are in queue.
However, the BJP dismissed any such possibility. Information minister and BJP leader Sushanta Chowdhury, a former political aide to Royburman, alleged the resignations were "part of the deep-rooted conspiracy to reduce the government into a minority", but party and the people of the state "will not allow this to happen".
"There is no risk to the government," Chowdhury told the media.
BJP spokesperson Nabendu Bhattacharjee said Roybarman's role was known to everyone since the 2019 general elections.
"In every election they played against the party but the BJP leadership had given them the opportunity to rectify. However, they didn't," he added.
Earlier, the BJP MLA from Surma SC reserved constituency of Dhalai district Ashis Das had resigned raising the same allegation against the BJP leadership and crossed over to the Trinamool Congress.
The BJP-IPFT combine had 44 MLAs initially. However, IPFT lawmaker Brishaketu Debbarma from Simna tribal reserved seat of West Tripura district resigned last year and joined royal icon Pradyot Kishore Debbarman's TIPRA Motha.
After resigning from the assembly, Roybarman told the media they have sought immediate by-election to the vacant constituencies. He challenged BJP to win their seats in the bypoll if they can and said the saffron party was now incapable of getting votes except through terror tactics and sponsored violence by using "anti-social elements".
"We have experienced the just concluded urban local bodies' election in the state and have full details of their violence and manipulation strategies with the help of police, for which for the first time in the history of Tripura, the Supreme Court had to issue directions to the state on the day of polling. If they think, by-elections and next year's assembly poll would be conducted in the same method, people would spare none of them," Roybarman stated.