Headlines
Ad hoc teachers protest, want salary enhancement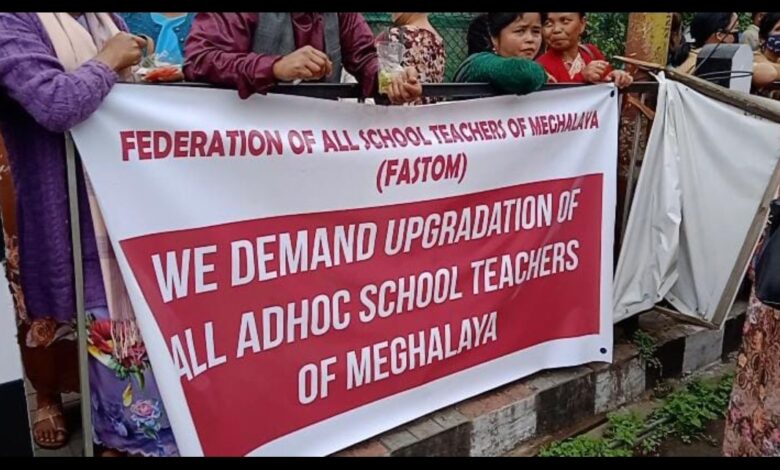 Shillong, April 22: Ad hoc school teachers have staged protest in front of the Secretariat asking the government to enhance their salary if the government cannot upgrade their services to a deficit system.  
The protest on Friday was under the banner of the Federation of All School Teachers of Meghalaya (FASTOM) as the sit-in-demonstration by the teachers for the past one month since March 23 did not yield any result.
A delegation of the FASTOM met the Commissioner & Secretary in-charge Education  BDR Tiwari but there was no favourable decision.
FASTOM spokesperson Mayborn Lyngdoh said the teachers are compelled to continue with the non-cooperation movement against the government.
"We will continue with the non-cooperation movement by not taking part in any of the activities that are related to the government and its education department," he said.
Earlier, the demand of the FASTOM was for immediate upgradation of all the ad hoc school teachers to the deficit system but it was decided to scale down their demand by asking the state government to consider Rs 18,000 salary enhancement to all categories of adhoc teachers' right from lower primary to higher secondary schools.
"We have actually scaled down from upgradation to deficit system to Rs 18,000 enhancement, which will be uniformed for all teachers. The reason why we have scaled down is because after we had a meeting and discussion with Ambrose Marak on January 18, we understand that the government is going through certain kinds of difficulties post Covid. That is why we have decided to stick with the Rs 18,000 enhancement and reconsider our upgradation to the deficit system."
He further slammed the education department for submitting an exaggerated report that Rs 700 crore is required for implementing the demand for salary enhancement. "But according to us the financial implication would come to around Rs 250 crore only," he said.
"Who is making that exaggerated amount we do not know and it is quite impossible to know. We are giving them facts that are with us. We are not trying to negotiate with them too much – we are just telling them to either upgrade us to a deficit system or enhance our salary by Rs 18,000 along with a 5% increment," he said.
"We have come together and decided to demand this amount that is going to let us live with dignity  and to let us live without any difficulties in this era where everything is so expensive," he added.