Headlines
JD Rymbai laid to rest
State funeral accorded to former CM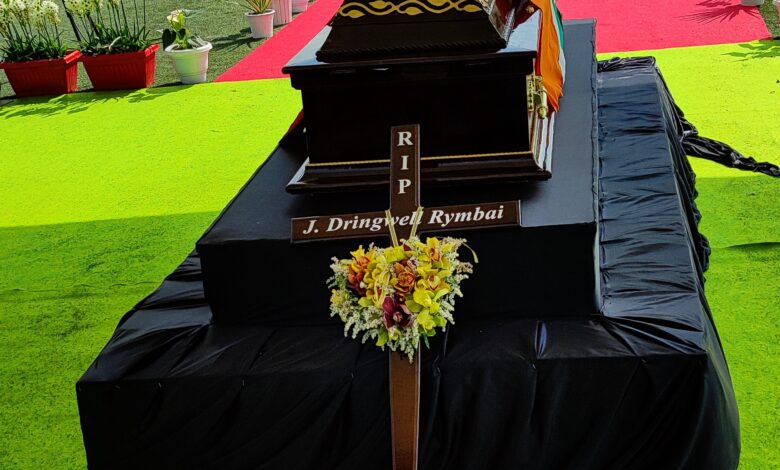 Shillong, April 23: Prominent state political figure J Dringwell Rymbai, who passed away on April 21 at the age of 88, was laid to rest with state honours, on Saturday.
Rymbai, who held the positions of Chief Minister and Speaker was known as a honest politician and he was the last chief minister to reside at Tara Ghar, the Assam-type official residence of the chief ministers.
The funeral service started at his residence at Mawlai Nongpathaw in the afternoon followed by the cortege reaching Madan Heh, Mawlai Phudmuri for the state funeral.
Gun salutes marked the state funeral and the leaders and officials paid floral tribute
Later, the mortal remains were laid to rest at the cemetery of Presbyterian Church, Mawlai Phudmuri.
Earlier at Madan Heh, Assembly Speaker Metbah Lyngdoh and Deputy Chief Minister Prestone Tynsong recollected his contribution to the state.
East Khasi Hills Deputy Commissioner Isawanda Laloo read out the message of  Chief Minister Conrad Sangma.
Jirang MLA  Sosthenes Sohtun and the grandson of Rymbai  Norbert Pathaw also spoke.
Rymbai had represented Jirang from 1988 till 2013.
Norbert composed a song for his grandfather and read out on the occasion.
In the song, Norbert described the sacrifice made by Rymbai, his truthfulness and integrity, the time he spent with the family in time of difficulties.
The funeral was also attended by cabinet ministers James Sangma, Lahkmen Rymbui, Hamletson Dohling, Renikton Lyngdoh Tongkhar, Leader of Opposition Mukul Sangma, local MLA PT Sawkmie, local MDC Teibor Pathaw and Martle Mukhim MDC who was associated with Rymbai, Additional Chief Secretary, DP Wahlang, special DGP Idashisha Nongrang, senior government officials, family members, friends and well wishers of  Rymbai.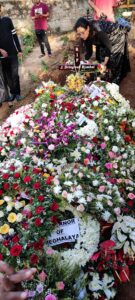 Rymbai is survived by wife Peggymon Pathaw, three daughters and two sons, 19 grand children and two great grand children.
Born on October 26,1934 in Kdong Hulo, Ri Bhoi , Rymbai started his career as a teacher at a school in Bhoirymbong and later he became the headmaster of a school in Saiden village before plunging into politics.
He had served the state as deputy speaker from March 22, 1988 to January 22, 1990.
He was elected the Speaker of Meghalaya Legislative Assembly from October 12, 1993 to April 17, 1997.
After serving as a minister handling various portfolios, he assumed the office of the chief minister from June  2006 till March 2007.