Feature
Arunachal: Kaiser-e-Hind butterfly sighted in Mechuka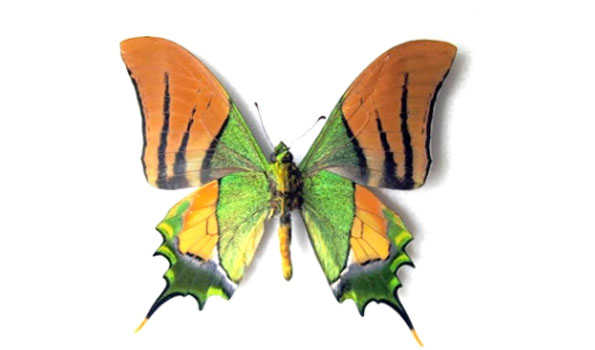 Itanagar, May 28 (UNI): Kaiser-e-Hind butterfly, one of the rarest butterflies in India, was sighted by an avid wildlife photographer for the first time in the jungles of Mechuka, Shi-Yomi district in Arunachal Pradesh.
"The presence of this rare and beautiful butterfly has the potential to attract many butterfly tourists to Shi-Yomi district and Mechuka in particular," said Dr Joram Khopey, Deputy Director of the State Blood Transfusion Council at the Directorate of Health Services, who along with his friends spotted this butterfly species on May 22 last.
"The median altitude of Mechuka is around 7,000 ft above sea level. It is felt that if proper survey is carried out by experts many more high-altitude butterflies could be sighted. The vegetation and altitude of Mechuka seems suitable especially for Bhutan Glory, another beautiful and rare butterfly," he said.
Kaiser-e-Hind is much sought after by butterfly lovers and enthusiasts for its beauty and rarity. Moreover, its presence is a sign of rich biodiversity especially of plants and trees (Magnolia sp. tree is the host plant for Kaiser-e-Hind butterfly).
The butterfly with its shimmering greens, bright yellows and delicate blacks is a treat to the eyes. The green iridescence of the wings has been found to be due to three-dimensional photonic structure of the scales and is the subject of much research, Dr Khopey said.
Kaiser-e-Hind (Teinopalpus imperialis), which literally means Emperor of India, is a rare species of swallowtail butterfly found in small pockets of Nepal, Bhutan and along the Eastern Himalayas in India, including Arunachal Pradesh, West Bengal, Meghalaya, Assam, Sikkim and Manipur. In these areas, it occurs at medium and higher elevations from 6,000-10,000 feet above sea level in well covered forest terrains. It is also found in Northern Myanmar, Northern Vietnam and in the Sichuan Province of China.