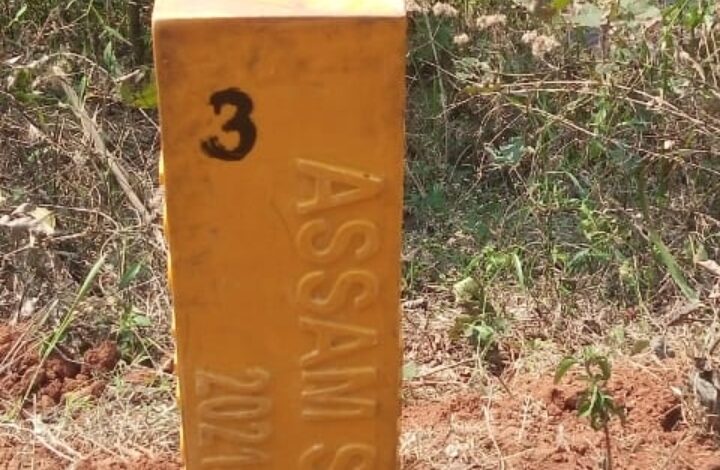 Shillong, March 16: Assam government has assured to remove all pillars from Umshru village in Ri Bhoi district after the pressure group, HANM dumped some of them in Secretariat after removing them from the border.
Replying to a call attention motion moved by Nongkrem legislator Lambor Malngiang, the Chief Minister, Conrad  Sangma said that Assam government has assured to remove all pillars from the village.,
The deputy commissioner, Ri Bhoi noticed the matter on March 13 and he immediately took it up with his counterpart in Assam, the deputy commissioner of Kamrup (Rural).
"As informed by the DC Kamrup, the government of Assam is doing a cadastral survey for non-cadastral villages in all the districts of Assam. Under this initiative, survey was done in the Assam side near Umshru village of Ri Bhoi district and the pillars erected were based on this initiative", Sangma said.
The DC Kamrup (Rural) clarified that these pillars in no way demarcate the boundary of Assam and Meghalaya and that this exercise has nothing to do with the Meghalaya-Assam boundary resolution, he said.
However, the DC, Ri Bhoi informed the counterpart that this can potentially mislead and create confusion regarding the Assam – Meghalaya border and therefore requested to remove the pillars immediately.
Following the request, the officials from Assam removed three pillars and also one pillar was removed by some unidentified persons, he said.
The chief minister informed that he had also taken up the matter with the Assam chief minister Himanta Biswa Sarma.
Vigil in border 
The chief minister said the police have taken up measures to prevent any untoward incidents occurring in the areas as extensive patrolling is conducted in the border area, the officers and personnel of Jirang anti-dacoity camp have been instructed to maintain strict vigilant in the area, sector officers in close coordination with the border magistrate have been instructed to liaison with the counterpart in Assam, response team has been detailed to attend any untoward incidents in the bordering area.
According to him, the overall situation in these areas is peaceful and the situation is being closely monitored by the police and district administration.