Feature
Sunday Monitor
Assembly Election 2023: Let's put the lens on constituency
The practice of laying down micro manifestos is a welcoming change in Meghalaya's electoral politics
Every five years when Meghalaya gets ready for the Assembly elections, political parties get into a frenzy to prepare their respective manifestos. The media then get into a rush to publish the news of the release of the manifestos. Once the elections are over and the public representatives are voted to power, none, including the elected candidates, remembers the promises made before the elections.
But this election, things are different. A practice, which has not been seen in the state in the recent past, among the new faces in electoral politics promises a wind of change. Several independent candidates as well as greenhorns are laying down constituency-wise manifestos, which focus on problems at the micro level. While election manifestos of national and regional parties flag broader issues and often ignore the day-to-day drudgery of the common man, the micro manifestos are setting a precedent by giving more importance to the hoi polloi.
Elgiva Gwyneth Rynjah, the Trinamool Congress candidate from North Shillong, was the first to bring out her manifesto, which was beside the party's 10 pledges and state manifesto. She was followed by Avner Pariat, the Voice of the People Party (VPP) candidate from East Shillong, and Angela Rangad of KAM Meghalaya who is contesting from South Shillong as an independent candidate. All of them have raised issues in their policy documents which are as pertinent as they are neglected.
Rynjah's manifesto, or policy statement, has the spirit of the party's women and youth-centric vision. Nonetheless, the document is customised to suit the people of her constituency. The manifesto talks about setting up a women's hostel, a subsidised medical shop, a skills development centre for the youth, Anganwadi centres in the constituency and support for school dropouts, among others.
North Shillong constitutes localities such as Police Bazar and Iewduh, the two economic nerve points of the city, Harijan Colony and Wahingdoh, among others. Many of these localities have households belonging to the low-income group and families with women as sole earning members. For them, a subsidised medical facility or an Anganwadi centre is a more practical proposition than resolving the inter-state border dispute or checking illegal coal transportation.
Rynjah has also proposed a 'Cleaning Our Environment and Nature' project for awareness on pollution. This will go a long way in reviving the Wahumkhrah stream in particular and improving the cleanliness and hygiene of the constituency in general.
"It is very important for me to highlight the vision that I have personally drafted for the electorate of the constituency. These are my assurance that if I am elected as an MLA, I would ensure that my party's state manifesto and personal policy statement are implemented. It is the need of the hour as we all know that Meghalaya's glory has to be back on track for the benefit of our future generations," said Rynjah.
Pariat, who has been vocal about the high living cost in Shillong and the widening gap between the rich and the poor in the state, has several points in his manifesto which have been crafted keeping in mind the cosmopolitan nature of East Shillong constituency and voters from all economic strata. The VPP candidate talks about public dispensaries, accessible and affordable drug and alcohol rehabilitation centres, and improving and expanding universal health coverage services in Khliehshnong and Demseiniong, among others. He also talks about better public transport, which is every common man's silent demand.
Both Khliehshnong and Demseiniong have a large population of economically backward families — such as daily wage earners, construction workers and domestic helps — for whom accessing quality healthcare facilities is burdensome. An improvement at the grassroots level will, besides helping these poor families, help in building a healthy society in the long run.
A young voter from East Shillong who works as a contract worker in a private firm told Sunday Monitor that he has read Pariat's manifesto. "I was quite impressed by the fact that he has highlighted those problems which we complain about every day. I am not an enthusiastic voter as I know our daily struggles would not lessen by choosing candidate A or B. MLAs never bother about how we travel on public transport, what we do when we are ill and how we pay our rent. This time, someone is talking about it," the 28-year-old voter said.
Pariat rightly takes up the issue of high rent, which has been a contentious issue, especially for the non-tribal population, for years now but none has ever spoken about it. He proposes standardising house rent, setting up a quality assessment board for rental spaces and bringing in a uniform contract system that will benefit both tenants and landowners.
East Shillong has a substantial number of non-tribal residents who often face communal discrimination. Pariat tries to find a solution to this decades-old problem and suggests multi-communal events and cultural exchange programmes, among others, to bring harmony.
"Micro manifesto is important for me as it will me focus on the constituency-specific concerns, which have come up after a lot of discussions with people. I can promptly deal with these issues," said Pariat.
A group of students at an eatery in South Shillong was discussing Rangad's way of working when Sunday Monitor encountered them. When they were asked what they felt about Rangad as a candidate, the reply was in unison, "Good!" It was before she released her manifesto but the voters were aware of the issues she was highlighting during her impromptu street-corner speeches.
"I heard her speak once or twice and she piqued my interest. Generally, I am not interested in politics as I come from a middle-class family and I know I have to fend for myself. But that she was speaking about the problems that bother us every day was interesting," said a 23-year-old voter. However, she was mum on whom she would vote for.
The tea shop owner joined the conversation without provocation. He begged to differ, saying, "Her approach is more like an activist. I doubt she can compete with the seasoned politicians. Can she guarantee all non-tribals' safety," he said, and quickly added, "Are you video recording? Please don't. I don't want trouble, please."
Rangad has been going door to door for her campaign and giving speeches at prominent spots in the constituency. This is the first time that the voters in the urban constituency are experiencing personalised campaigning. The majority of the residents of South Shillong are from non-tribal communities. So far, the three-time sitting MLA has not come out with a whitepaper on his plans to solve the innate problems in the constituency. Like other seasoned politicians of the state, he has barely shown any accountability in spending public money.
Rangad challenges this trend of non-transparency and is ready for a debate with the sitting MLA. Her manifesto, which has been prepared in English, Khasi and Hindi, is based on a survey that KAM Meghalaya carried out in the constituency.
It lays down 50 key projects, which range from improving the quality and accessibility of civic infrastructure, safety and security for all to the rights of women and the elderly, education, health and employment. Some of these projects include a participatory survey and budgetary exercise to determine where the Rs 2.5-crore MLA grant should be spent.
Rangad talks about community-managed supplementary nutrition programme, annual health check-ups in every school in South Shillong and support to students with disabilities, among others. She also proposes community learning centres, community essential school supplies and resource bank for students from economically weaker families, school-based mental health programme and support for upgradation of digital infrastructure in schools, among others. She also raises the problem of single working mothers and the dire need for well-equipped creches in the localities under the constituency.
Water crisis is a major problem in several pockets in the urban constituency and Rangad suggests solutions for that. Among other things, she emphasises the need for rainwater harvesting and hygienic public toilets, which are lacking in the entire city.
Besides, Rangad lists five ethical commitments and clear action items for the first 100 days as MLA both in the constituency and in the assembly. The most important among these is the transparency portal that will ensure people's right to information about how their representative is spending the public fund.
"It is people's money that an MLA gets as a grant. That fund is not anyone's personal money. Ergo, the transparency system," she said while releasing the manifesto.
Tarun Bhartiya, an activist himself, said a micro manifesto will show how meticulously an MLA will work in the Assembly. "If one cannot solve the problems at home, how can they solve the state's issues? Micro manifesto becomes important for credibility and accountability," he added.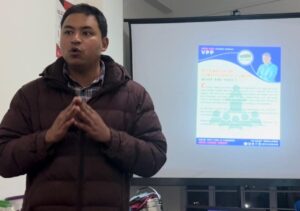 Kyrsoibor Pyrtuh of KAM Meghalaya, who is an independent candidate from North Shillong, said this is the first time in Meghalaya that the lens has been put on issues that have hitherto gone unnoticed.
"In urban constituencies, civic amenities remain an issue for the past 50 years," said Pyrtuh. He too will come up with a constituency-specific action plan.
Hyper-local manifesto & why
Micro manifesto is not a new concept in the country. In 2019, the Congress released its hyper-local manifesto in Lucknow before the Lok Sabha election. In the same year, AAP released its localised manifesto. In Meghalaya, this is probably the first-of-its-kind move. But why does a localised manifesto become important?
A localised manifesto focuses on issues that never feature in a broader manifesto. It also helps in finding the specific causes of a problem. For instance, water crisis can be in many constituencies but the reasons may vary from ill-maintenance of pipelines, lack of pipelines, inadequate public taps to degrading catchment areas. But when put in the context of a state-wide issue, these causes get diluted and a blanket solution is suggested that may not be helpful for a particular locality.
A hyper-local manifesto always piques the interest of voters because of greater accessibility to and better understandability of the document. All the micro manifestos released so far are scripted in simple language without political innuendoes. This helps voters understand what their representatives are promising to do and what they have done in the five-year period. This raises the MLA's accountability and facilitates healthy discussions and public debates outside of the cosy party offices or newsrooms where the media become the only source of information for the common man.
A detailed manifesto with supporting data and a specific road map is always welcome. A manifesto filled with jargon and vague propositions is nothing but junk. However, wily politicians ensure that their manifestos remain illegible so that their voters lose interest and never follow up with the promises in the next five years.
A hyper-local manifesto shows how well a candidate knows about the constituency he or she is hoping to represent. It is also more authentic than speeches because a candidate is giving in writing his or her vision for the next five years. A micro document shows one's sincerity and reflects his or her political ideology, making it easier for voters to reason their choice.
Having said that, one has to admit that voters too have to be aware of their rights so that they can study these manifestos and point out the fallacies if any. They should be careful enough to differentiate between policies and programmes in a manifesto and freebies. In fact, the Supreme Court on July 5, 2013, while directing the Election Commission of India to frame guidelines on the election manifesto to be included as part of the Model Code of Conduct, observed, "Although, the law is obvious that the promises in the election manifesto cannot be construed as 'corrupt practice' under Section 123 of RP Act, the reality cannot be ruled out that distribution of freebies of any kind, undoubtedly, influences all people. It shakes the root of free and fair elections to a large degree."
A manifesto is a democratic document and can be a powerful tool for the public to hold the representatives accountable for not fulfilling their promises. There has been a demand to make manifestos legally binding but it is yet to be done. At a time when freebies are taking over real action plans, it becomes imperative to make election manifestos legally enforceable so that politicians use words judiciously and act cautiously.
~ NM