North East
BJP-CPM clashes continue in Tripura; blame game over attacks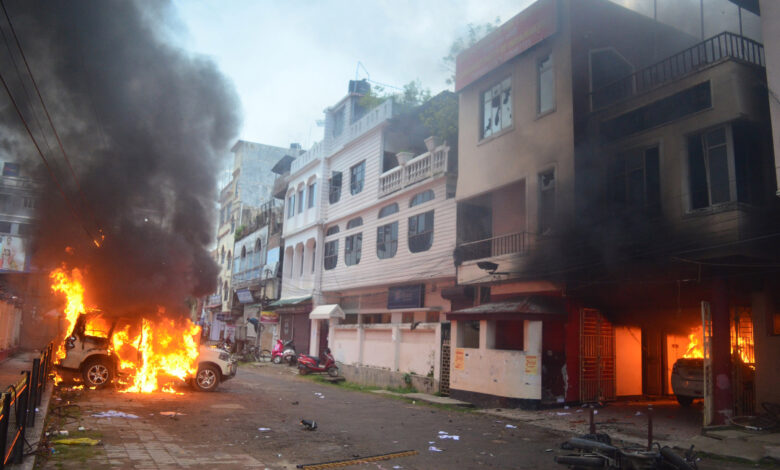 Agartala, Sept 8 (UNI): Tension spread to Gomati district of South Tripura on Wednesday following counter-attack by CPI-M on BJP allegedly preventing leader of the opposition Manik Sarkar from visiting his constituency Dhanpur in Sepahijala on September 6 last.
The CPI-M alleged that BJP cadres have assaulted at least 30 of their supporters and carried out mass attacks on them in the last two days across five constituencies in Gomati and Sepahijala.
The CPI-M alleged that BJP cadres have set the house of renowned advocate Ranadhir Debnath, who is also a CPI-M worker, on fire on Tuesday night to burn the family members alive. Debnath is a resident of Shalgara on the border of Sonamura and Udaipur.
A 70-year-old lady of the family is suffering from about 70% burn injuries and has been shifted to Agartala Government Medical College.
Senior CPI-M leader Subhas Deb, a member of the party's Sonamura sub-divisional committee, was assaulted and his head, waist and legs were broken.
CPI-M leader Madhab Saha said, "The violence started after newly appointed information minister Sushanta Chowdhury and Union minister Pratima Bhowmik issued open threat of attacks on CPI-M workers."
Meanwhile, BJP protested the incident and attack on their workers by CPI-M in Dhanpur and the rally was addressed by Union Minister of state Pratima Bhowmik along with other party leaders. She accused Sarkar of instigating violence to capture power from the back door and urged the workers to resist the communist for peace and development.
When BJP was protesting in Dhanpur, a 43-year-old BJP supporter identified as Mofez Mia was assaulted allegedly by CPM workers in Udaipur town.