Headlines
Sunday Monitor
Blue Planet brings Carnatic music to Nagaland villages
FEA's initiative breaks norm to integrate music with ecological awareness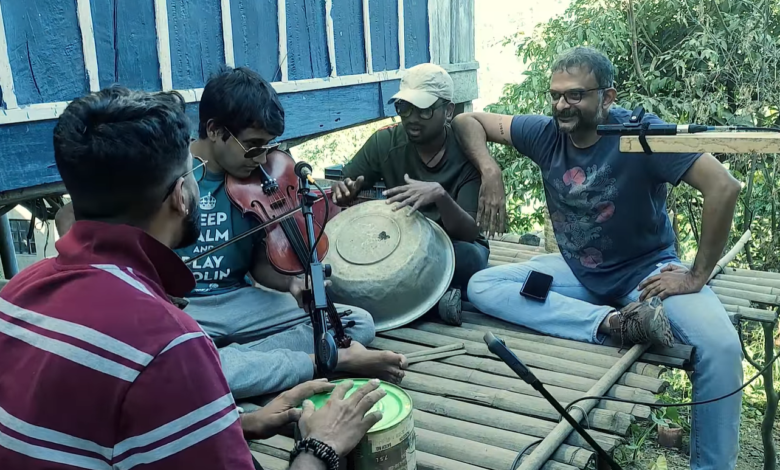 Waking up to Carnatic music in an obscure village in Nagaland is not part of the locals' routine. In fact, not many villagers would know about the classical music form. But their tryst with a group of Carnatic musicians and vocalists recently was fascinating thanks to First Edition Arts.
The arts curating team of First Edition Arts (FEA) has started an initiative that brings music, heritage and nature together. The series, monikered Blue Planet which started on December 16, is featuring 21 concerts of Carnatic and Hindustani music, and Bharatnatyam across India. Unlike other concerts, the performances will be amid nature.
Each episode in the series has been filmed in a different location, a different environment, wherein specific stories of conservation of nature are highlighted. FEA is collaborating with several NGOs which work with farmers and contribute to nature conservation.
Recently, Carnatic vocalists Aishwarya Vidhya Raghunath and Brindha Manickavasakan — accompanied by artistes Praveen Sparsh, Vittal Rangan and Chandrasekhara Sharma — performed in Nagaland's Tuensang district. It was their first duet concert in three villages — Angangba, Lirise and Chungtor.
In Nagaland, FEA collaborated with Better Life Foundation, founded by Sethrichem Sangtam. Sangtam's Farmers' Innovation Centre has helped in preserving the natural resources there and provided livelihood to local farmers.
"It was a lovely experience. So much love and warmth from the people of Angangba. We felt at home. We spoke to champion farmers as they told us about the work that is done there and the farming techniques they developed. We got to experience the traditional dance and the boat-like drum on which different types of drumming indicated different messages to the village," Manickavasakan told Sunday Monitor about her experience.
"I did not know much before going to Nagaland, now I know a little. I look forward to learning much more about the beautiful art, music, tradition and culture of NE India," she added.
Raghunath was not new to the North East as she had visited Nagaland earlier with her husband, Jayesh Ganesh, who is associated with Sangtam's NGO. Performing in a village that was hemmed in by mountains was divine, said the 32-year-old vocalist.
Talking about her experience in Nagaland, Raghunath said though Carnatic music was unknown to the people there, many enthusiastic listeners had gathered at the venue. "There were children and old people. They were curious to find out what we were doing. And as the music started, they sat there. None left. It was really wonderful to see how music can transcend all boundaries and bridge the cultural gap," she told Sunday Monitor on phone from Bengaluru.
Ganesh echoed Raghunath saying among the audience were senior citizens with walking sticks, children, women carrying water and those villagers who were going on their daily chores. "They sat down and listened to the performance, mesmerised," he added.
"Music transcends boundaries. There are a lot of parallels that can be drawn between our music and our natural wealth. This series is to celebrate the diversity through music and provide a window to different cultures," Manickavasakan summed up the essence of the series.
Sangtam was impressed by the initiative and elaborated his intention in collaborating with FEA. According to him, the youth in his state are moving away from the tribal culture and tradition and he wanted to showcase how tradition is maintained in other parts of the country.
"True, Carnatic music is quite different from our music forms and unknown to people here. But South Indian music form is hundreds of years old and has been preserved. There are young performers. So, this was an opportunity to show our youths how tradition and culture can be preserved even amid the onslaught of modernity and globalisation," he added.
Raghunath started training in classical music at the age of three and at 13, she had her first public performance. "My grandmother would sing to me when I was a child. So, there was a musical environment at home. This was how I got interested in singing."
Manickavasakan was introduced to Carnatic music by her father, Sri Manickavasakan. Her grandfather, Sri Subbaiah, was a renowned Villupaattu (a traditional art form that brings together music and storytelling) artiste.
"My interest and passion for this art grew over time and when I completed 10th grade, we decided to shift to Chennai to pursue my learning. Until then our family was in Dubai… I have been blessed with great gurus, both in Dubai and in Chennai, and am presently learning from Vidushi Suguna Varadachari. It has been an intense, challenging, evolving, wonderful journey. My family, gurus, and of course rasikas (music lovers/listeners) are my biggest pillars," said the vocalist.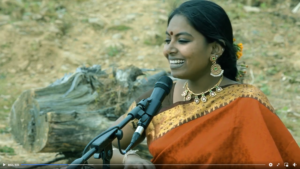 The young artistes were part of the group that included renowned Carnatic vocalist, author and activist TM Krishna, who has redefined the concept of concert to take classical music to the mass. Krishna also performed in Tuensang and interacted with locals to understand their culture and tradition and struggles. Krishna has redefined the appeal of Carnatic music for a wider and more mixed audience.
The Blue Planet series, which will be presented over five months, has also travelled to Goa's Mollem National Park, which has been endangered by highway and power projects. Dhrupad singer Uday Bhawalkar performed inside the forest.
Talking about the changing trend in classical music concerts, Ganesh said today's artistes are breaking the barrier and going beyond the niche audience for classical music.
FEA, which was formed in 2014, is facilitating the revolution that is taking place on the stage for classical music through Blue Planet and other initiatives. "We started filming every concert from 2015 when we started our initiatives. We believe each concert is unique in itself. We use multiple cameras to capture every mood of a concert. This will help in promoting classical music," said Devina Dutt, co-founder of FEA, which works with groups driven by local communities active in sustainability practices and climate change related issues.
Dutt informed that with the pandemic, people have become more aware about climate change and nature conservation and this sensitivity has piqued their interest to know more about the issues related to the man-made phenomenon. This prompted FEA to design the classical music series close to nature. With every concert on the open, the place's vulnerability and the locals' resilience have been in focus. The name 'Blue Planet: Music, Ecology, Heritage' says it all.
Blue Planet will also travel to West Bengal and the concluding concert will be in the Sundarbans. All concerts are exclusively available on Shaale.com from December 17 to March 27 and tickets can be bought on Shaale too. Once tickets are bought, the concerts will be available for repeated viewings till May 31.
(Photo courtesy: FEA Facebook Page)