International
Clashes reported between Taliban & resistance forces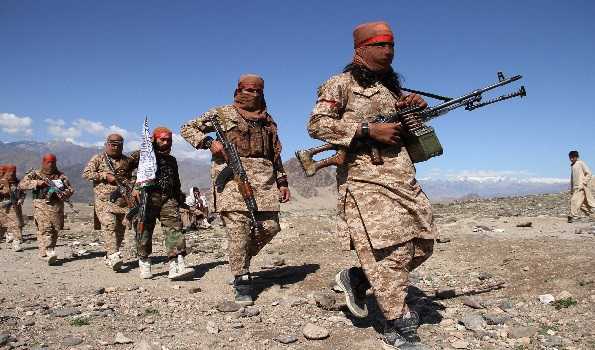 Kabul, August 23 (UNI): Heavy fighting was reported between the Taliban and the forces of Ahmad Massoud in Panjshir in northeastern Afghanistan on Monday, where Amrullah Saleh, who has declared himself the caretaker President, is holding out against takeover by the Taliban.
Videos on social media showed many casualties lined up inside a truck. The Taliban and the resistance forces have both suffered casualties, according to reports.
Taliban spokesperson Zabehullah Mojahid in tweets said that they have retaken Banu, Pol-e-Hesar and Deh Salah districts of Baghlan, while the Taliban has surrounded the forces of Massoud, who is the son of late Afghan leader Ahmad Shah Massoud.
"Banu, Pol-e-Hesar and Deh Salah districts of Baghlan were completely cleared of the evil enemy. The Mojahedin are established near Badjanshan, Takhar and Andarab near Panjshir. The Salang Highway is open and the enemy is besieged inside Panjshir. The Islamic Emirate is trying to resolve the issue peacefully," the Taliban spokesperson said.
Earlier, Saleh had tweeted that the Taliban have massed their forces near the entrance of Panshir, after they got trapped in ambush zones in neighbouring Andarab valley. He said that the resistance forces have closed the Salang Highway, a major mountainous pass.
"Talibs have massed forces near the entrance of Panjshir a day after they got trapped in ambush zones of neighboring Andarab valley and hardly went out in one piece. Meanwhile Salang highway is closed by the forces of the Resistance. There are terrains to be avoided. See you," said Saleh in a tweet.
Meanwhile, according to reports, the Taliban have issued a last warning to Massoud of the Northern Alliance to surrender. They have asked him to negotiate with them or face attacks by the Taliban.
According to reports, the Taliban supply line has been destroyed in Salang by the resistance forces and that many Taliban have been killed and wounded.
Evacuation deadline
The Taliban said on Monday they will not extend the August 31 deadline for the current evacuation mission, a media report said.
The BBC quoted Taliban spokesperson Suhail Shaheen as saying August 31 was a red line.
He said US President Joe Biden had said troops would be out by that date, and extending it meant extending Afghanistan's occupation. He warned of "consequences" if that were to change.
UK Prime Minister Boris Johnson is expected to use an emergency G7 meeting on Tuesday to ask President Biden to delay the US troop withdrawal to allow more time for evacuations from Kabul airport.
Thousands of Afghans and foreign nationals are still scrambling to get on flights out of the country.