Shillong, Sep 19: Chief Minister Conrad Sangma did not reveal who is the alleged drug kingpin Henry Lalremsang who was photographed twice with him but criticised TMC leader Mukul Sangma for linking him with Henry.
Mukul released two photographs-One with the CM, his wife and Henry and the other shows  the CM with Henry and two others in an airport.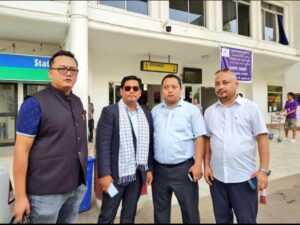 Conrad termed the allegation of Mukul as the most ridiculous way of proving anything.
"It is sad that a person of his level brought in a photograph and just jumped to a conclusion. Connecting people based on a photograph of two people being clicked together I think in today's world, it is the most ridiculous way of proving anything. So I have no comment to say about that," Conrad told reporters, in response to the statement of Mukul.
According to Conrad,  he clicks pictures with millions of people being a public figure.
"I meet and I sit and I click pictures with millions of people. Even while walking in the street, somebody will stop me, I never say no, because we are public figures", he said.
"I think connecting two individuals' activities based on and coming to a conclusion based on a photograph I think is the most illogical conclusion that anybody can jump to," Conrad said
He added: "It has to be based on evidence and on proof of what activities were taking place. I have no clue number one, what these activities were and I know many people and individuals who are there and as public figures we need to talk to everybody."
"So does the court case or whatever police case that was filed, does that have Conrad Sangma name in it? I think that is the precise question. Whether we were called for any kind of discussion on it or any kind of case was filed against us, I think that is the basis on which a statement of this level by a person of his stature should be made," he added.
To a question, the chief minister said he will act on the matter as per the rule and procedure in the House.
"As per rule, whatever the rule and procedure is there in the house, whatever the honourable speaker has mentioned accordingly we will take it but as I said there is nothing to react from my side when there is no basis on which these kinds of talks have been made," he added.