Shillong, Sep 19: Trinamool Congress MLA Mukul Sangma on Tuesday brought to the notice of the House Chief Minister Conrad Sangma's photo with Henry Lalremsanga, an alleged kingpin involved in smuggling of drugs in Mizoram and the rest of the  North East.
The picture was taken during a fashon show at Andaz by Hyatt, in New Delhi on September 25, 2021.
The occasion was to celebrate innovators in the fashion industry.
Mukul said that it would be better to know the antecedents of the people with whom the persons in authority associate with.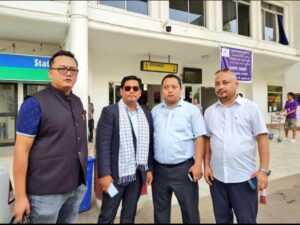 While taking part in the discussion on the motion regarding the menace of drugs and substance abuse in the state, Mukul quoted a media report of April 2013 about the arrest of  Henry hailing from Mizoram in connection with the seizure of pseudoephedrine tablets worth Rs 6 crore allegedly from the son of a former Congress MLA.
Police termed Henry as the kingpin of the gang.
According to the report, Henry is allegedly involved in illegal trade along with Arvind Ahuja, son of the former MLA Ashok Ahuja, and his driver Manish who were arrested from New Delhi. The sezure was 2,51,680 strips of pseudoephedrine tablets.
The police had said the accused allegedly supplied the tablets in Mizoram, other Northeastern states and Myanmar.
"Henry contacted Ahuja, a whole sale distributor of medicines, for supply of the drugs. Ahuja placed orders to pharmaceutical companies for the drugs and other medicines and after procuring he supplied it to Mizoram on his directions", the Business Standard reported.
Henry, then a commerce graduate, after coming to Delhi in 2003 from Mizoram had worked in various banks. He shifted to  property dealings in the NCR region, according to the report quoting the police, who had said Ahuja used to get commission on the transactions.
Alleging that Henry is one of the close associates of none other than the chief minister, Mukul raised his mobile and said "This is the photograph of the chief minister  his wife and Mr Henry in one of the very high profile programmes in Delhi."