National
Cong leaders protest as ED questions Rahul for 5th day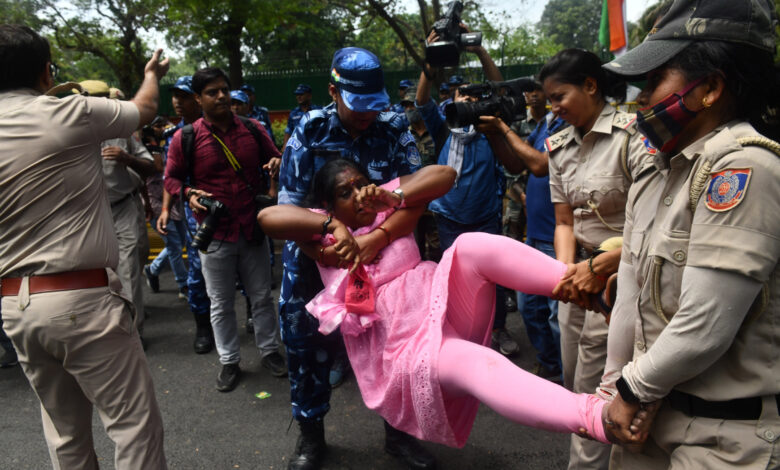 New Delhi, June 21 (UNI): Congress leaders staged a protest in the national capital once again on Tuesday and several party workers and leaders were detained by the police as they attempted to stage a march from their Akbar Road office.
Former Congress President Rahul Gandhi was questioned by the Enforcement Directorate (ED) again on Tuesday, the fifth day when the agency probed him in relation to the National Herald case.
The Congress leaders called it a 'political vendetta' and said the questioning was being continued to 'distract attention from the Agnipath scheme'.
Calling it a tactic to divert attention, party spokesperson Abhishek Manu Singhvi said, "It has become clear that the Modi Government, having failed at every single aspect of governance is now desperate to divert attention from its latest half-baked attempt at policy making…. The Agnipath scheme, launched without consultation or application of mind, is the latest in a series of poorly thought-out announcements to cause widespread protests across the nation".
"Rahul Gandhi is being summoned to distract the nation's attention, to keep all cameras focused on this charade of a process, to make sure that the protesting voices against Agnipath do not get the platforms they deserve," he said.
The area around Congress headquarter at Akbar Road in Delhi was once again cordoned off, and barricades were placed on all sides to restrict entry and exit in the party office.
The party's media department head Jairam Ramesh tweeted on Tuesday morning, "The Rapid Action Force does not reach in time when riots take place. But the blue coloured Rapid Action Force has been standing in front of the Congress Headquarters in New Delhi since this morning. This is called 'Amitshahi'!"
The Congress leaders spoke against the Agnipath scheme as they staged a sit-in protest in the Congress office. Senior party leaders expressed commitment to oppose the Agnipath scheme for recruitment in the forces, as well as on the questioning of Rahul Gandhi and the treatment meted out to Congress leaders since last week.
Party workers and leaders then tried to stage a march out of the Congress office, but were stopped by the police, detained, and taken to various police stations across Delhi once again.
The party had called all its MPs and leaders to Delhi to express solidarity with Rahul Gandhi as he went for ED questioning last week. The Congress on Tuesday also called all its MLAs and MLCs to come to the national capital.