Headlines
Covid patients to get upto Rs 60,000 under MHIS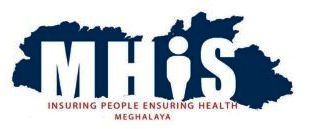 Shillong, May 27:  The state government has decided to increase the MHIS coverage for Covid patients from the present Rs 4,900 daily to a maximum of Rs 60,000.
The decision was taken during the review meeting chaired by Chief Minister Conrad Sangma on Thursday.
Deputy Chief Minister Prestone Tynsong told reporters that the benefits are under the special mission of the government.
Director of Health Service, Dr Aman War said the charge for ICU-cum ventilator in the hospital is normally Rs 4,900 per day for one patient. "Now, the decision of the government is that till the sixth day, the rate will be Rs 4,900", War added.
Tynsong expressed surprise over the low enrollment under MHIS which stands at 58.5 per cent.
He urged all the citizens who are eligible under MHIS, to register themselves so that they will avail the benefits.