National
Cyclone Yaas wreaks havoc in West Bengal, Odisha
Kolkata/New Delhi/Ranchi, May 26 (UNI): West Bengal Chief Minister Mamata Banerjee on Wednesday said over 1 crore people across the coastal districts, including Midnapore and South 24-Parganas, have been badly affected after Cyclone Yaas hit the state.
Addressing the media at Nabanna, Banerjee said though the actual loss of the property was not immediately available but initial reports said there had been huge loss to the agriculture and its allied sector after saline surging waters marooned the affected district.
There had been no report of any loss of human life in Yaas-related storms. However, a fisherman drowned when he went for fishing from his temporary shelter at Mandarmani.
Banerjee said all the district authorities have been asked to save the lives and then ascertain the extent of damage. She will make an aerial review of the affected district on Friday.
The most damaged areas are adjacent to Digha, a sea resort and hub of fishing industry in Midnapore and Sundarbans in South 24-Parganas.
The administration's efforts to deal with the disaster were in full swing. The chief minister herself was in the control room of Nabanna since Tuesday evening. She said about 15.7 lakh people were evacuated to safer places earlier. Nearly 3 lakh houses have been damaged.
Scores of dams have been breached in several places, including at Kultali and Gosaba. Salt water has infiltrated the land and caused severe damage to crops. The fish has also been damaged. The government has sent 1 million tarpaulins, rice and dried food to the relief camps.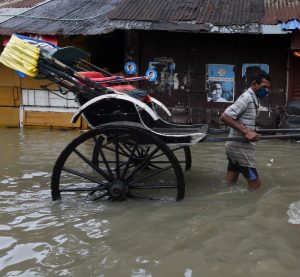 The coastal areas of South 24-Parganas and East Midnapore have been devastated by Yaas. Disasters are more or less going on in all the districts of South Bengal. Even water has accumulated in the areas adjacent to the Ganges like Kalighat, Chetla and Rashbehari in Kolkata.
The cyclone crossed West Bengal coast on Wednesday evening after making the fall at Dhamra port in Odisha's Bhadrak district.
The India Meteorological Department (IMD) said the landfall has brought heavy rains in the coastal areas of Odisha and West Bengal and is likely to take at least another 24 hours to pacify. The strength of Yaas may be slightly lower than Cyclone Tauktae, IMD said.
The Indian Navy, Air Force and NDRF teams have been deployed for the rescue operations and the Union Home Ministry is in touch with all states to provide the assistance if needed.
An earlier forecast had said the cyclone would enter Jharkhand after midnight.
Apart from the capital city of Ranchi, the districts of Khunti, Gumla, Ramgarh, Hazaribagh, Lohardaga, Dhanbad and Bokaro witnessed rainfall throughout the day. For Thursday the weather department has issued a red alert for the Southern districts while an yellow alert has been sounded for other districts.