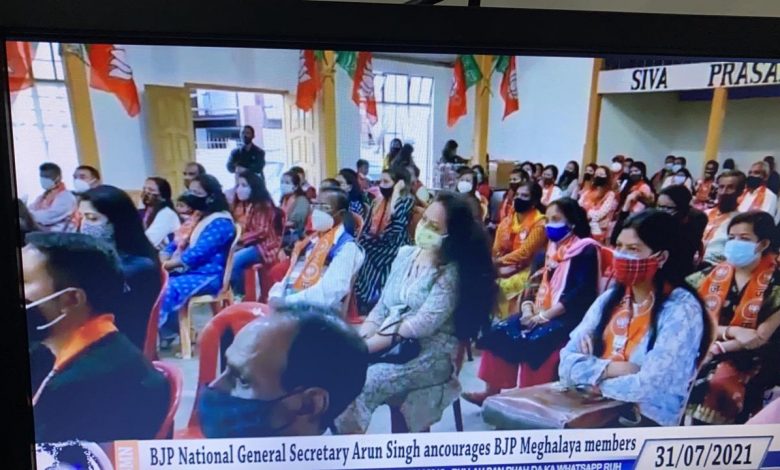 Shillong, Aug 5: The East Khasi Hills Deputy Commissioner Isawanda Laloo is yet to act on the complaint lodged by Hynniewtrep Integrated Territorial Organisation (HITO) regarding the large number of people gathered for the BJP meeting at Assam Club, Laban on July 31.
The political department, in a letter to the BJP state party president Ernest Mawrie on July 29, had given permission limiting the number of people to 20 due to Covid, but there were hundreds of people.
The HITO had also posted the link of the video clip to substantiate the complaint.
Instead of taking action, the DC has only forwarded the July 29 letter of permission granted to the BJP by the political department to HITO.
In the letter submitted to the DC, the HITO president Donbok Dkhar asserted that the BJP had violated the protocols during its booth level meeting of 19th South Shillong constituency at Assam Club.
BJP national general secretary& Rajya Sabha MP Arun Singh, BJP NE general secretary (Organisation), Ajay Jamwal, Cabinet Minister Sanbor Shullai and other party functionaries were present.
HITO said permission was granted for three meetings of the BJP functionaries in Nongpoh, Garikhana and Laban subject to stringent Covid 19 protocols as prescribed by the state health department.
"The number of attendees permitted for the meetings was limited to 20 persons only for each venue subject to strict adherence to health protocols issued by the Health & Family Welfare Department", Dkhar said.
Besides referring to the video footage, Dkhar said the number of attendees was way beyond 20 persons and "possibly could even total to around a hundred if one were to go by eyewitness accounts of residents of Howell road Laban and passersby as well."
He wanted the DC to take stringent legal action against the violators as per law of the land.
"We urge you to also conduct an inquiry and identify which officer/district team let such blatant disregard and contempt of the law take place unabashedly in broad daylight and take suitable action against the erring public servant," Dkhar said in the letter.