State
Exit of two MLAs not a setback, says Conrad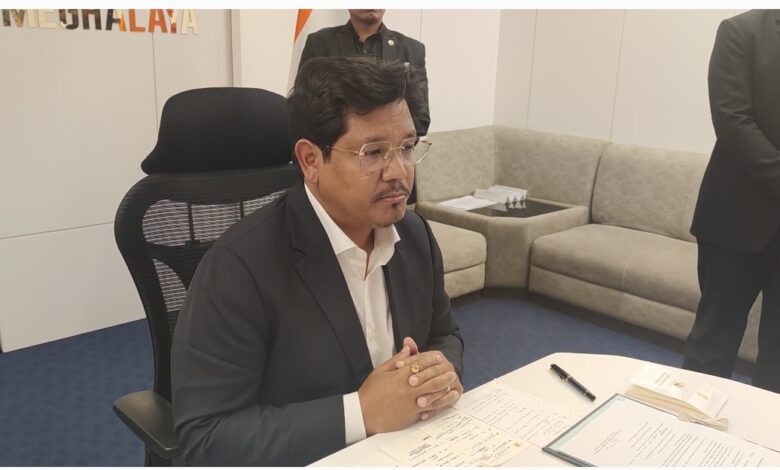 Shillong, Dec 2: Chief Minister Conrad Sangma, who is also the national president of NPP, on Friday rejected claims that the resignation of two party legislators was a setback.
According to Conrad, the assessment report of the party had indicated that the position of the two former legislators — Ferlin CA Sangma (Selsella) and Benedic Marak (Raksamgre) — and some others were not strong.
"No, it is not at all (a setback). As I said these constituencies and a few other constituencies where we have done our assessments and we have found that the positions are not strong of the certain incumbent MLAs and therefore, we had discussions in the party and then those MLAs decided to leave…," Sangma told reporters.
He informed that the party already has candidates in these constituencies where the chances of sitting MLAs coming back are less. "As I said it is a mutual thing, it is not a setback, it is part of politics and we already knew that this is going to happen about 4-5 months back," he added.
On November 28, Ferlin CA Sangma and Benedic Marak along with one AITC legislator from Mawsynram, Himalaya Shangpliang, resigned as members of the 11th Meghalaya Legislative Assembly reducing its strength to 57. All three are all set to join the BJP in New Delhi this month.
When asked, the NPP chief said resignation as member of the Assembly was a conscious decision taken by them.
"…this was also after a detailed study that the party has done at its own level in regards to the current positions in their constituencies and based on that it was more or less kind of a mutual kind of a stand and they have decided to go to another political party which is fine because they have the right to choose it is a democratic process and I have nothing to say against them and I wish them the very best," he stated.
The chief minister further assured that the party will retain the Selsella and Raksamgre seats in 2023.