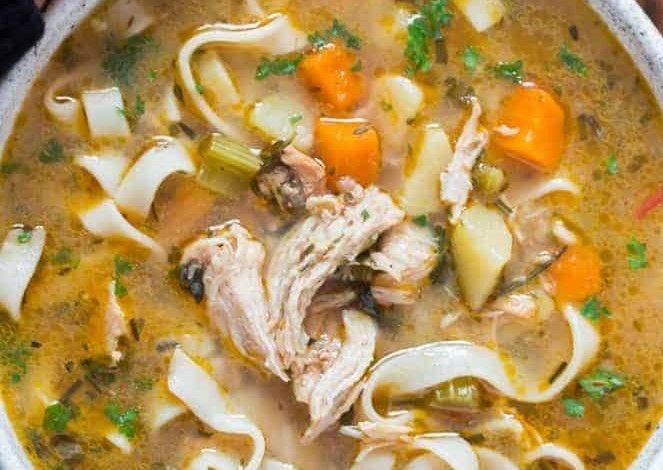 INSIDE HIS KITCHEN
If you are planning something different on the menu, then here is a tasty and healthy option. Instant Pot Chicken Noodle Soup has the right ingredients, including herbs, to not only satiate your palate but also add to the health quotient.
Ingredients
1 tablespoon of olive oil; 5 cloves of garlic, minced; 1 onion, diced; 5 celery stalks chopped; 1 tomato, diced; 3 carrots peeled and diced; 2 small potatoes peeled and diced; 1 tablespoon of fresh thyme, chopped; 1 sprig rosemary, chopped; 1 tablespoon oregano; 1.5 tablespoons of parsley, chopped; 2 lbs chicken, breast and thighs; 4 to 6 cups of homemade chicken stock or water; salt and pepper to taste; 5 oz of egg noodles.
How to make it
Turn on instant pot and select sauté mode. Wait until pot is heated up. Pour olive oil. Add minced garlic, onions, celery and tomato to the heated oil. sauté for a minute. Next add in chopped vegetables like carrots, potato. Add fresh herbs – thyme, rosemary, oregano and parsley. Season with salt and pepper to taste. Sauté and cook for 1 to 2 minutes. Add chicken. Sauté and cook for a minute. Pour in chicken broth or water. Secure lid in place with pressure knob in sealing position.
Select 'High Pressure' mode and adjust timer to 10 minutes. Once cooking time is over, let the pot do natural pressure release for 10 minutes. Turn off instant pot. Turn knob to Venting Position to manually release any pressure. Remove cooked chicken pieces from the broth. Turn on the sauté mode. Let the broth come to boil again. Meanwhile, shred chicken meat with two fork, discard the bone. Add noodles into boiling broth and cook for 6 to 7 minutes uncovered, or until noodles is cooked. If you feel the liquid inside the pot is dried too much, you can pour about a cup to 1.5 cups of broth or water again. Once the noodles in cooked, add shredded chicken pieces. Mix well. Ladle out soup into serving bowl, garnish with parsley. Serve immediately warm.
~ MD ENAMULLA KHAN (ALI), Corporate Chef