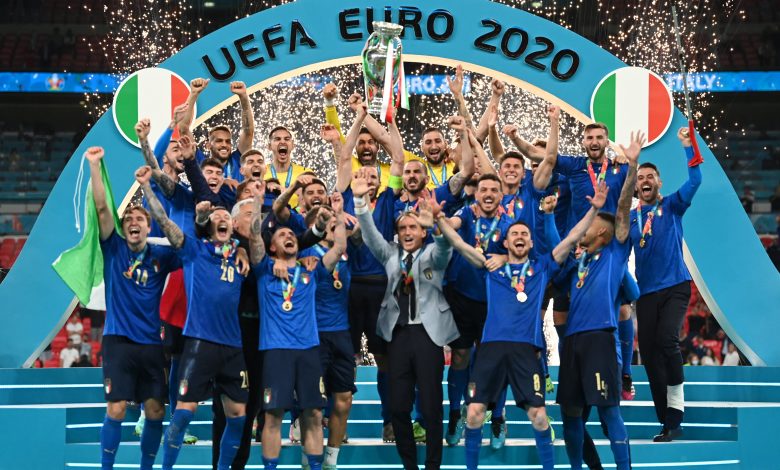 Wembley, London, July 12: Italy lift the Henri Delaunay Cup beating England in penalties at Wembley Stadium on Monday. Chiellini cannot hide his delight at being the first Azzurri captain to receive the trophy since Giacinto Facchetti in 1968.
Italy have their name on the Henri Delaunay Cup for the first time since 1968! They become the first side to succeed via two penalty shoot-outs at a single UEFA EURO tournament. They fought back from the earliest goal in EURO final history and dominated proceedings, to bring a fantastic edition to a close. England created history with their run to this showpiece, but glory eludes them again.
Italy are unbeaten in their last 34 international matches W27 D7 – last defeat was in September 2018 (vs Portugal).
The UEFA Star of the Match has been announced as Leonardo Bonucci. UEFA Technical Observer Packie Bonner said of Bonucci's showing: "It was such a strong defensive performance from the 34-year-old. He showed distribution out from the back and the all-important equaliser."
"It's a brilliant night of football. I was kind of glad it went to penalties because neither team deserved to lose. It's not a night to be critical of England, they've been magnificent. Instead of criticising players who miss penalties, you praise the ones who stepped up. Credit to both goalkeepers, who made brilliant saves. It's tough for England but sometimes you have to lose to win and the World Cup is around the corner and the players will be better for this. It's a tough night but you have to take your medicine and move on." Said Roy Keane, former Republic of Ireland captain
Match summary
Italy win second EURO title on penalties.
Berardi, Bonucci, Bernardeschi on target.
England unsuccessful with last 3 spot kicks.
Rashford, Sancho, Saka fail to convert.
Bonucci levelled from Shaw in 90 minutes.