National
Jaishankar discusses Afghanistan with Qatar FM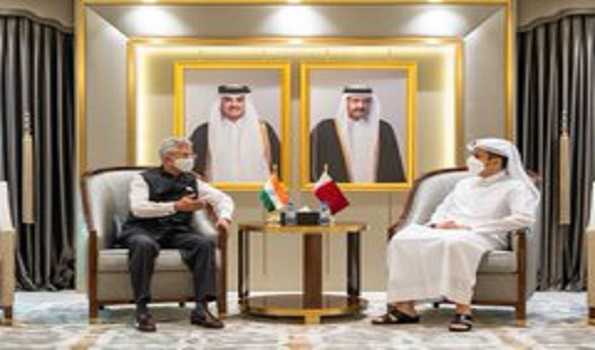 Doha/New Delhi, August 20 (UNI): External Affairs Minister S. Jaishankar on Friday met Sheikh Mohammed bin Abdulrahman Al Thani, the Deputy Prime Minister and Minister of Foreign Affairs of Qatar, and had a useful exchange of views on Afghanistan.
"Met Sheikh Mohammed bin Abdulrahman Al Thani @MBA_AlThani DPM & FM Qatar during my stopover in Doha. Had useful exchange of views on Afghanistan," he tweeted.
The Qatari Deputy Prime Minister tweeted: "Delighted to welcome again my colleague @DrSJaishankar, India's Minister of External Affairs. Our discussion included ways of developing the historical relations between our two friendly nations, along with the recent developments in Afghanistan."
Doha had been the hub of peace talks on Afghanistan, with many of the top Taliban leaders having a base there.
Taliban co-founder, Mullah Abdul Ghani Baradar, who was in Qatar, returned to Afghanistan on Tuesday after the fundamentalist group took control of Afghanistan.
Baradar held talks with Abdulrahman Al-Thani on Tuesday before leaving for his country.
Al-Thani had urged Baradar to ensure that civilians in Afghanistan are protected.
On Saturday, Qatar had called for the Taliban to adopt a ceasefire, but the militant group marched into Kabul on Sunday almost unopposed, as President Ghani left the country.
Early this month, Mutlaq bin Majed Al-Qahtani, the Special Envoy of the Foreign Minister of Qatar, had paid a two day visit to India, during which he met Jaishankar and other top officials. He had also extended an invite to India to join the Doha talks on Afghanistan.