Headlines
Load-shedding returns from April 30
Sudden announcement as usual
Shillong,April 28: The Meghalaya Power Distribution Corporation Limited (MePDCL) has resorted to load-shedding in the city and the outskirts from April 30.
On Thursday evening, a load- shedding notice with incorrect timing was ciruclated by social media enthusiasts.
When contacted, a power department official sent a correct official notification and added that someone did mischief by giving wrong timing of the notification which was circulated on the social media.
The reason cited by the MePDCL is that there is low water level in the hydro-electric  reservoirs of the state.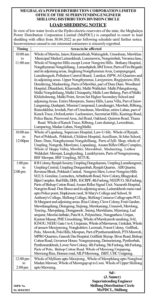 The decision came at a time when the residents were not expecting this as the  government had cleared all power dues to various entities from the Atmanirbhar loan of Rs 1345 crore from the Centre
An official with the MeECL said the government does not want to incur further dues and hence decided to restrict consumption of power.
"There is shortage of power as full generation is not taking place but the government does not want to purchase power by paying Rs 18 per unit whereas the state is selling power only at Rs 5", the official added.